The U.S. coffee market industry is worth more than $45 billion a year with Starbucks and Dunkin' Donuts being the two largest coffee shop chains by store numbers. They own nearly 25,000 branches between them, which is equivalent to around two-thirds of the total number of coffee shops in the country. And their reach expands far beyond U.S. borders: They are two of the largest coffee chains in the world, although Starbucks takes the win here with ten times as many overseas outlets compared to Dunkin' Donuts.
Although Starbucks is a much younger company than Dunkin', with the donut chain having been established more than 20 years before Starbucks opened its first store, it has become a considerably bigger business, generating more profits, having more stores, and being present in more markets around the world than its competitor.
Read on for more information on these powerhouses of the coffee shop market including their impact globally.
In this article we will cover the following:

14 Dunkin Donuts vs Starbucks Statistics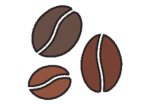 The Company
1.

Dunkin' Donuts is 20 years older than Starbucks.
(Fast Company) (Starbucks)
Starbucks and Dunkin' Donuts are two of the world's largest coffee chains, and the two largest in the U.S. but they haven't always been major competitors. Dunkin' Donuts was established in 1950 primarily, as the name suggests, as a donut shop. It wasn't until 2000 that the company really started to steady its gaze on the coffee shop market, with the introduction of the Dunkaccino. In 2003 they launched a range of espressos, lattes, and cappuccinos and in 2006 they launched an ad directly targeting Starbucks.
Starbucks launched in 1971 as a coffee shop, although they do serve snacks in their stores. By 2000, the company had 3,501 coffee shops globally and by 2003 this number had doubled to 7,225. In 2006, when Dunkin' Donuts expanded its coffee line, Starbucks had expanded to 12,440 stores globally.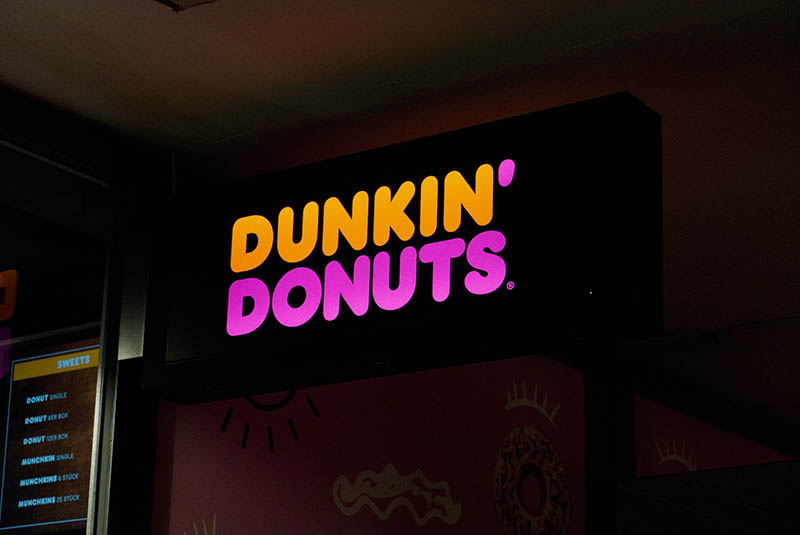 ---
2.

Starbucks has nearly 70% more U.S. stores than Dunkin' Donuts.
(Statista 2)
When it comes to the U.S. coffee shop market, Starbucks has a clear advantage over its rival. In 2020, Starbucks had 15,337 U.S.-based stores, compared to approximately 9,000 Dunkin' Donuts stores.
---
3.

Dunkin' Donuts has more than 3,000 stores outside the U.S.
(Dunkin' Donuts)
Being a much older company, it is not surprising that they were the first to expand beyond U.S. borders. Their first overseas store was opened in Tokyo in 1970. They have now expanded to 33 countries and have a total of 11,000 restaurants outside their home country.
---
4.

Starbucks has more than 17,000 stores outside the U.S.
(Finances Online)
It was in Tokyo that Starbucks launched its first overseas store, too, but much later, in 1996. The company is present in nearly twice as many countries (65) as Dunkin' Donuts and has 20,000 retail stores around the world.
---
5.

Nearly all Dunkin' Donuts stores are franchises, compared to approximately 50% of Starbucks.
(Investopedia) (Business Quant)
When it comes to business models, both Starbucks and Dunkin' Donuts have relied quite heavily on the franchise model. In fact, Dunkin' Donuts has been credited with having advanced this type of business model. Almost all of its stores are franchised with very few company-owned outlets. Starbucks has moved to a licensing-style offering in recent years, generally considered better for product-based businesses, but approximately half of their stores globally are either franchised or licensed.

Finances
6.

Starbucks has nearly 20 times the global revenue of Dunkin' Donuts.
(Investopedia)
Dunkin' Donuts is now owned by Inspire Brands, and they do not announce Dunkin's statements independently of the rest of their brands. But in 2019 Dunkin' reported revenues of $1.3 billion. In 2020, Starbucks' revenue was $23.5 billion which is nearly 20 times that of their competitors. Both companies took a hit during the pandemic but are bouncing back now.
---
7.

A typical coffee costs $2 less at Dunkin' Donuts than at Starbucks.
(Business Yield)
The two brands market themselves to different groups. Starbucks targets middle-class coffee drinkers while Dunkin' Donuts has stated that it aims to provide affordable coffee to more working-class coffee drinkers without compromising on quality. This is evident in the company's pricing. Dunkin' charges $2.49 for a large latte while Starbucks charges $4.15 for a similarly sized venti latte.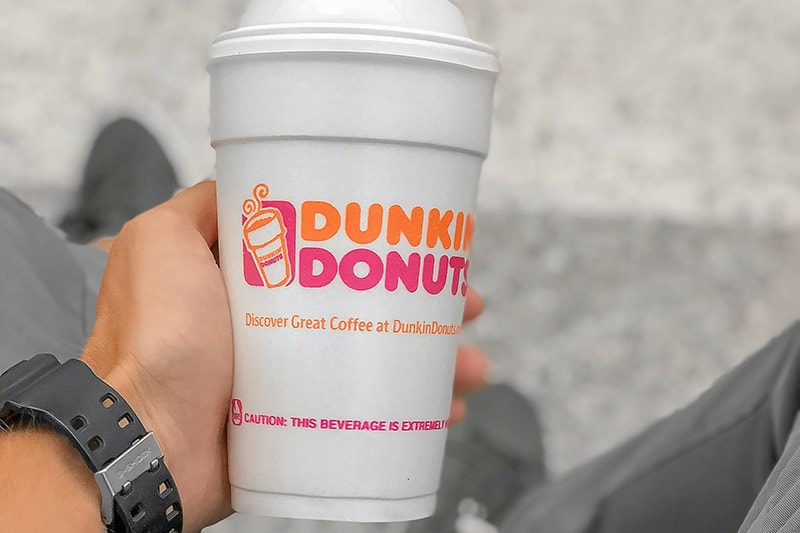 ---
8.

Dunkin' Donuts food is also considerably cheaper than similar food at Starbucks.
(Business Yield)
Dunkin' is also cheaper when it comes to food options. A savory croissant costs $4.75 at Starbucks while a croissant with the same fillings costs just $3.59 at Dunkin' Donuts. Consumers could save more than $100 a year at Dunkin' Donuts, compared to having a Starbucks.

Orders & Popularity
9.

Starbucks is more popular with students.
(JTAC News)
The two companies also offer a different experience to their consumers. While Dunkin' Donuts is a relatively basic experience, Starbucks offers experiential dining with free Wi-Fi and a quiet location. Dunkin' Donuts tends to attract more families. Although the survey is quite limited in its numbers, one survey of Tarleton State University students found that 60% preferred to get their coffee from Starbucks.
---
10.

23% of people buy coffee from Starbucks, compared to 14% from Dunkin'.
(Rasmussen Reports)
One survey, albeit conducted in 2011, found that 23% of coffee drinkers were likely to buy their caffeinated beverages from Starbucks. Only 14% got their drinks from Dunkin'. 22% said they buy theirs from a convenience store and 15% said they buy from somewhere else.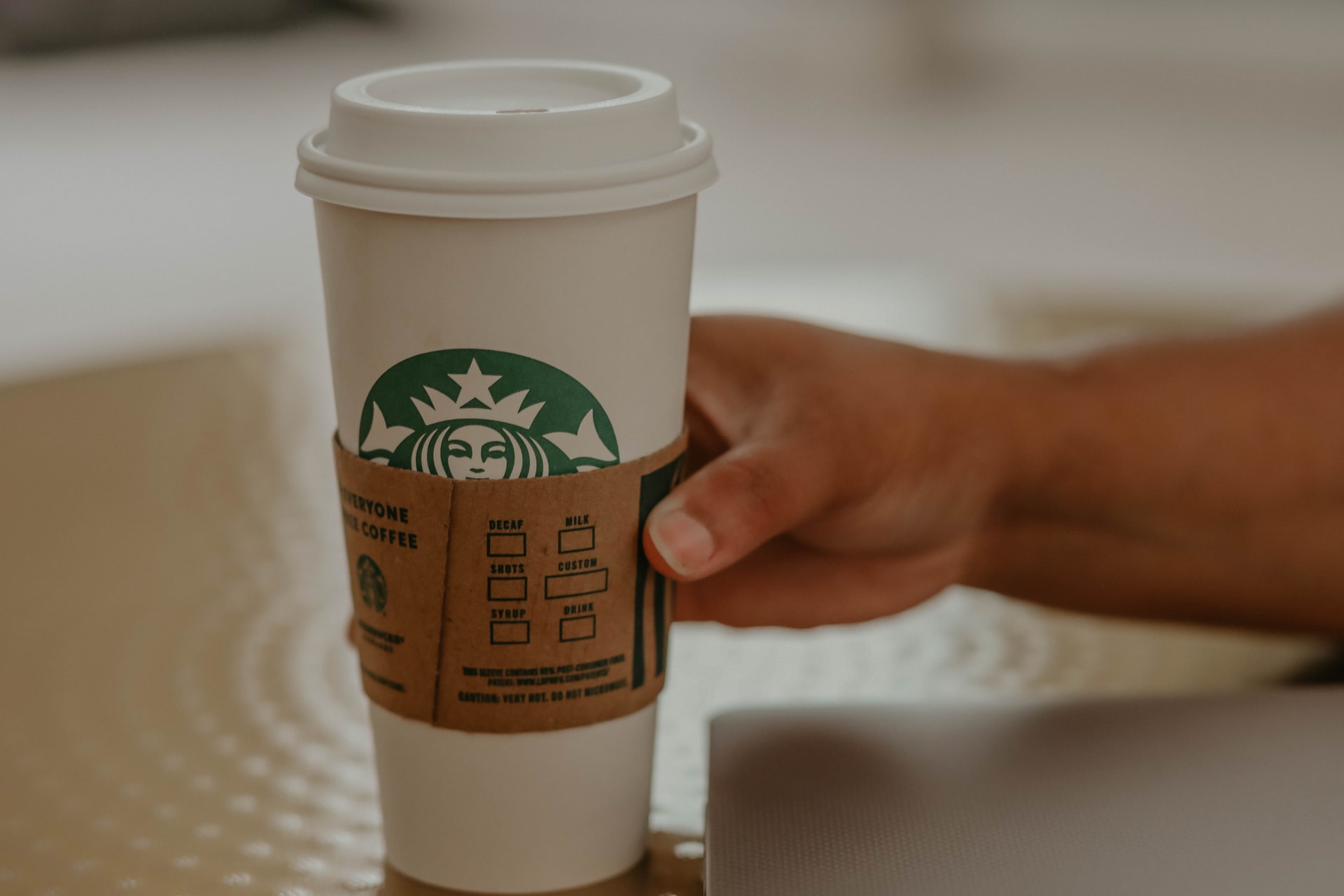 ---
11.

Two-thirds of people prefer Starbucks to their local coffee shop.
(Premise)
When given a choice of where to go to get a cup of coffee, 66% of people chose to go to Starbucks with the main reason given being convenience. This convenience is supported by the fact that Starbucks offers quick coffee pickup from their stores and also has a growing number of drive-thru locations where drinkers don't even need to get out of their cars to collect their orders.
---
12.

Drinkers get approximately 12% more caffeine from a Starbucks.
(The Commons Café)
One of the reasons for Starbucks' popularity is that its coffees tend to have more of a caffeinated kick. According to one study, Starbucks coffees have the highest caffeine content of four of the largest coffee chains in the U.S. Their drinks contain an average of 235 milligrams of caffeine compared to 210 milligrams in a Dunkin' Donuts coffee. In comparison, McDonald's coffee only has 145 milligrams of caffeine, and Peet's had the lowest amount with just 120 milligrams per cup, which is nearly half that of Starbucks.
---
13.

Vanilla Sweet Cream Cold Brew & iced coffee are the favorite iced drinks at Starbucks.
(Mashed 1)
Standard coffee isn't all that Starbucks sells and its iced coffee drinks have become something of a revelation. The company offers a large selection of syrups, flavors, and other additional ingredients that can be added to a drink. Popular with lattes, these extra flavors are especially popular with iced drinks. The most popular iced drinks at Starbucks are the vanilla sweet cream cold brew and the standard iced coffee.
---
14.

Caramel Swirl Iced Coffee is the preferred Dunkin' Donuts drink.
(Mashed 2)
While Starbucks is well known for its customization possibilities and its almost endless options of coffee and coffee-based drinks, Dunkin' Donuts is no slouch in their area, either. Overall, the preferred drink at Dunkin' is the Caramel Swirl Iced Coffee, described as being "lots of sugar, lots of caramel."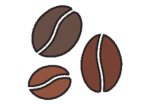 Frequently Asked Questions
Is Dunkin' or Starbucks More Popular?
Although Dunkin' Donuts is a very popular coffee shop chain, especially in the U.S., it doesn't come close to the size and market share of Starbucks. Starbucks has 70% more U.S.-based stores than Dunkin' and nearly 6 times as many stores outside the U.S. The Seattle-based company's revenues are nearly 20 times that of Dunkin's.
Is Dunkin' Donuts Cheaper Than Starbucks?
Although prices do vary according to what you buy, Dunkin' Donuts is typically less expensive than Starbucks and consumers will generally pay at least a dollar less for the same style of coffee from the donut chain than from the coffee chain. Food is also less expensive at Dunkin' Donuts than at Starbucks.
Who Is Starbucks Closest Competitor?
Although Starbucks has a considerable advantage over Dunkin' Donuts, they are the giant's closest rivals in the U.S. Although it is difficult to compare McCafe, found in McDonald's restaurants and often served alongside the global chain's popular fast-food options, McCafe is arguably Starbucks' closest global rival. Costa Coffee has slightly lower revenue than Dunkin' Donuts but is more of a direct competitor to Starbucks because it is predominantly a coffee shop that also sells some snack items.

Conclusion
Starbucks may not compare with the likes of Apple and Meta, but it is consistently ranked as the top restaurant chain in the world, despite being a coffee shop with minimal food and snack options. It has branched out into more than 60 nations and holds a significant lead in market share both globally and at home. Dunkin' Donuts is its biggest competitor, certainly at home and arguably around the world, however, and targets itself at working class and family visitors with a greater selection of food and snack options than the Seattle success story.
---
Featured Image Credit: Jumpstory