Colorado startup Glissade Coffee Company is enjoying an invigorating glide from soft opening to grand opening this month, following an extended effort to rebuild its 3,200-square-foot retail and production space in Aurora.
Guests coming in from early Spring cold are savoring warm cups around a central, transparent fireplace in a space adorned with custom tiles of bright white and icy blue. Drinks are crafted from beans roasted on site in a snow-white Diedrich IR-12 roaster by Glissade Coffee Founder Sean Harwin.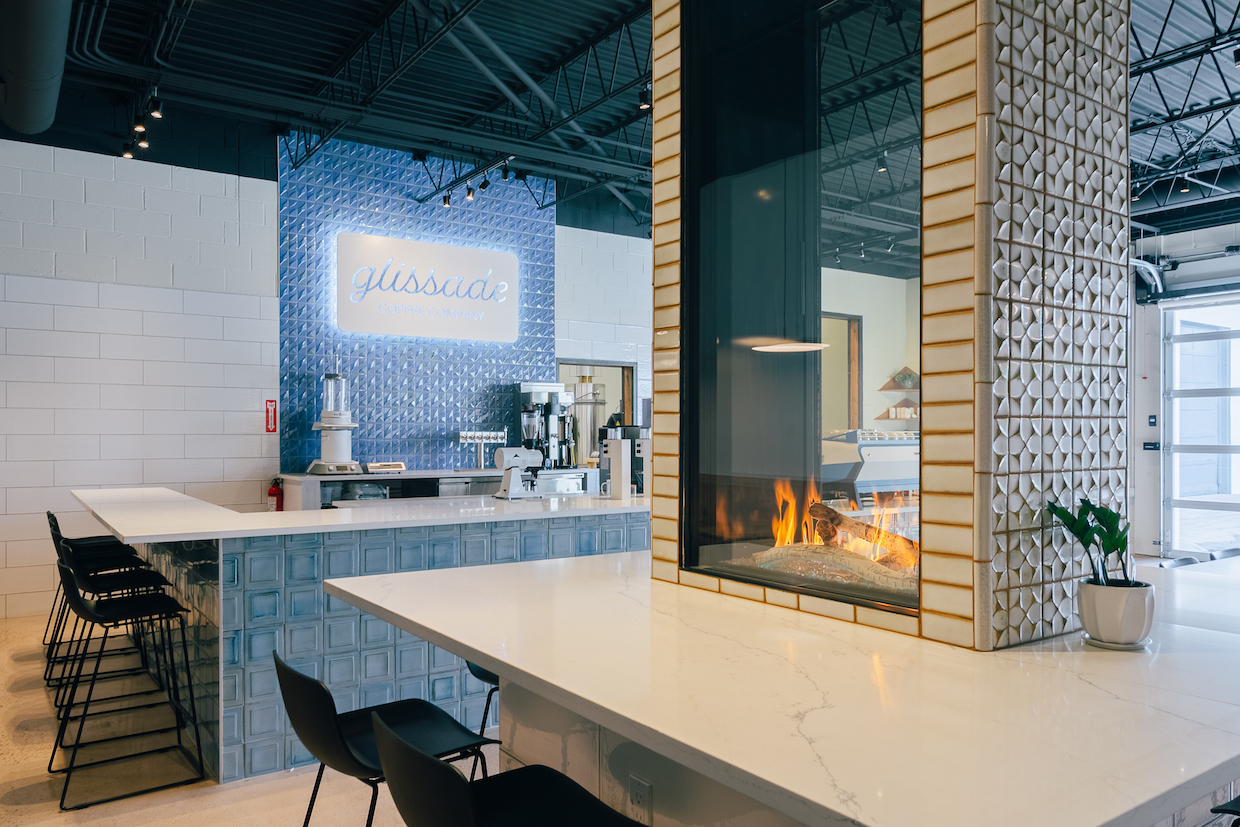 "Think about the primal urge of coming together around the fire. Our modern equivalent is a coffee shop. It's the ultimate coming together place," Harwin recently told Daily Coffee News. "The other morning we had a little snowstorm rolling through, and sitting down there with a cappuccino and being involved in the space like that — not to over-romanticize it, but it was everything I dreamed about."
From a white and blue SanRemo F18 espresso machine, shots descend into drinks overseen by baristas and cafe manager Dess VanDerWeide.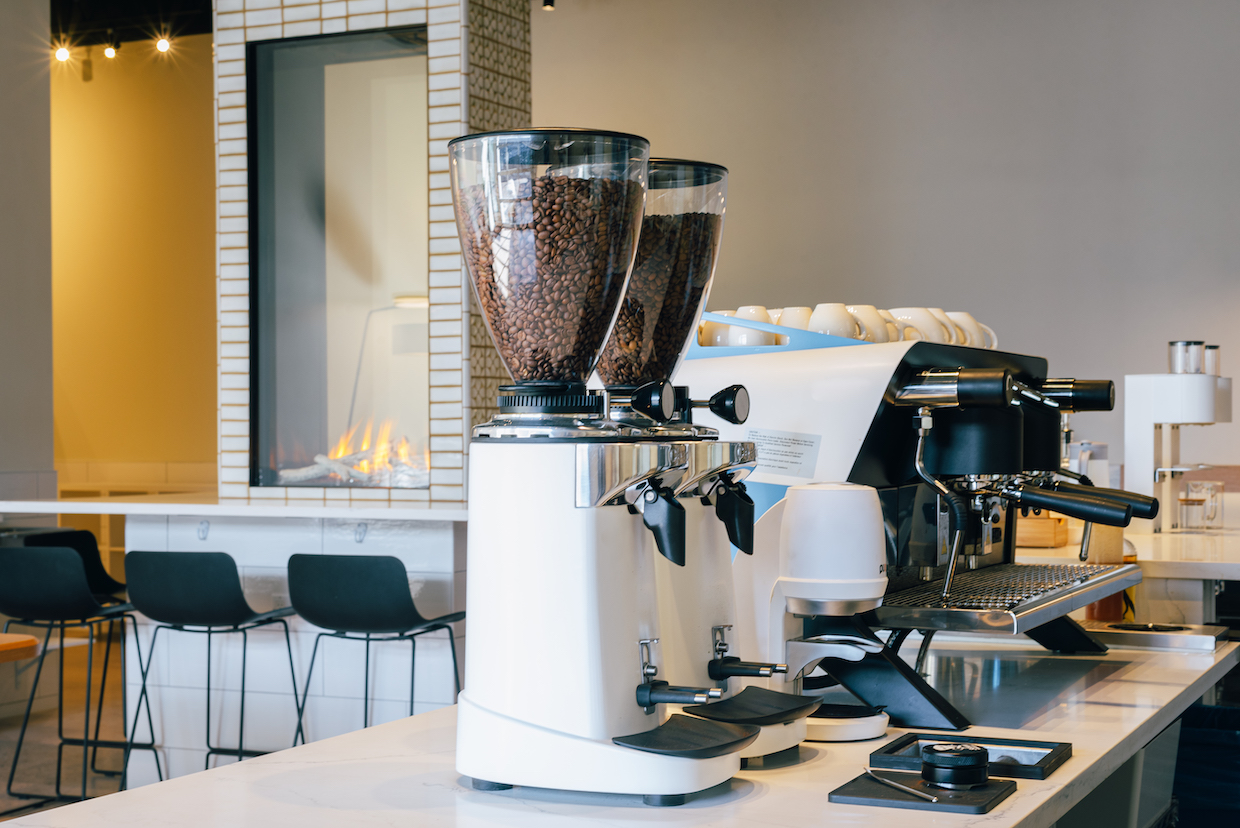 "A huge amount of success on the cafe side is purely due to Dess and their drive to be a part of this journey," said Harwin. "They're an incredibly skilled teacher. I have a barista on bar right now who had zero coffee experience, and within one week was pouring tulips. It's ridiculous."
A big believer in education who hails originally from Santa Barbara, California, Harwin was a consultant prior to launching Glissade, coaching other cafes and coffee businesses on roast profile development, as well as branding and design. Harwin's own roasting skills first developed over six years while working with a Seattle roasting company.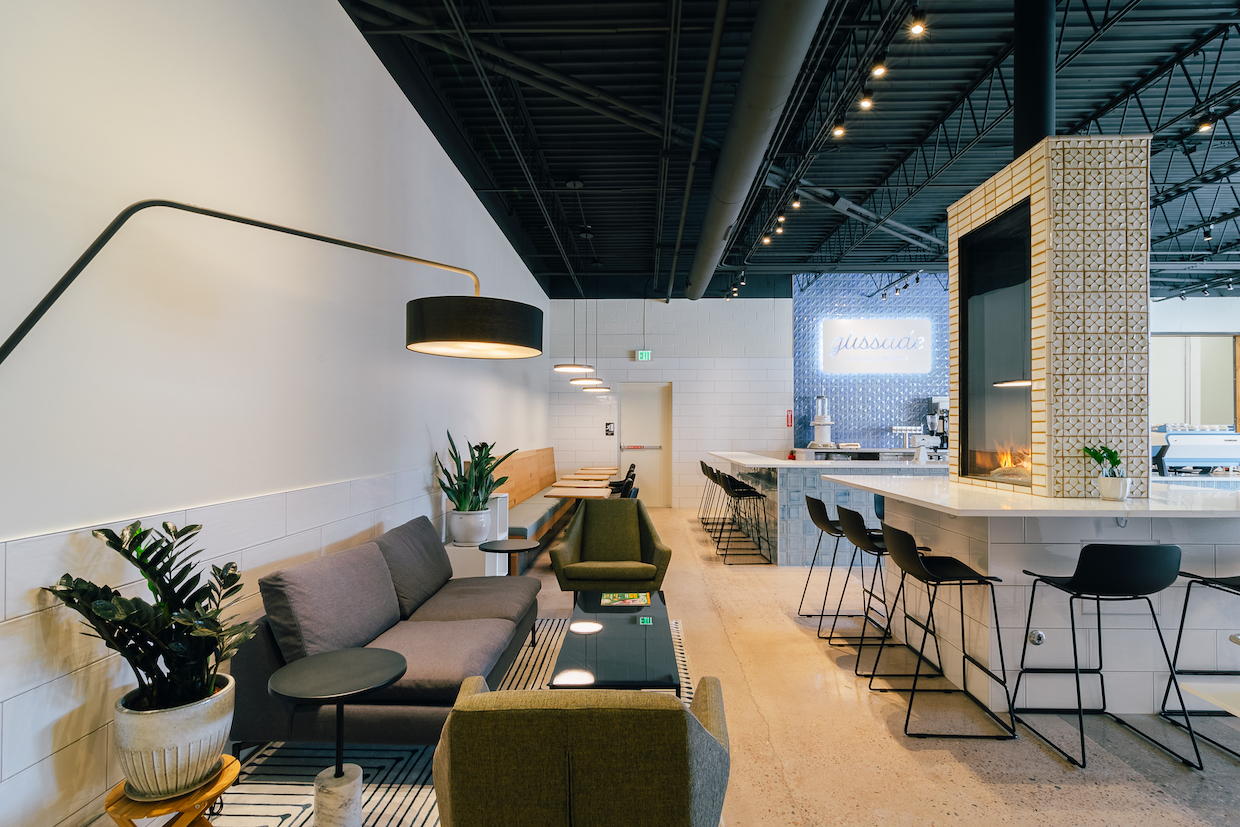 "I, and every seasoned coffee professional I know, have gotten into coffee by accident. We all found a way to make a career out of it and we all had bumps along the road," said Harwin. "I'm hoping for many of the staff here to see the potential of what a full career in the coffee industry looks like, because it's been unbelievably rewarding for me personally. I cannot wait till one of my staff thinks they're ready to open their own cafe. I can't wait to help them do that."
In certain snow-filled circles, glissading is most commonly defined as the act of sliding down a snowy slope on one's feet or bottom in a controlled way, without a sled. After Harwin proposed to his wife, Laura Graham, at the top of Mount Adams in Washington state, the newly engaged couple did exactly that. 
While trading the surf and old-growth coastal pines of Santa Barbara for the slopes and vistas of greater Denver, Harwin applied some of his skills as the son of a general contractor to the new shop.
Harwin personally hung 183 sheets of drywall, backfilled 50 yards of trench for plumbing and electrical work and reframed the entire fireplace when it needed to be moved.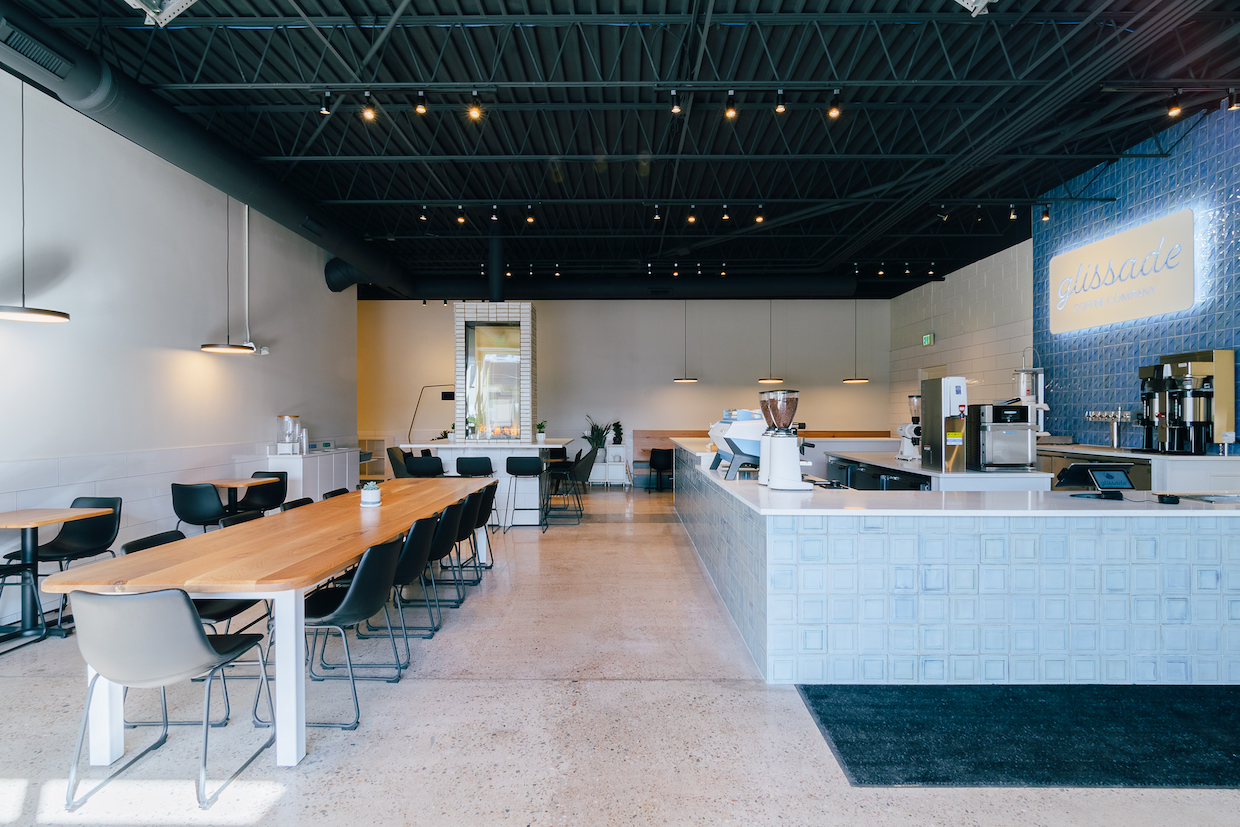 "I hired a great contractor whose headquarters is just a few blocks away, and I told them that I needed to be more involved in the buildout than they would initially be comfortable with," said Harwin. "But I promised them I would be an asset and not a liability."
A large community table and 2-top tables built by Denver-based Fin Art Co are made from the same white oak as the shop's retail shelves, doorways and other elements. On one side of the cafe, every seat has a power outlet, accommodating "cafe campers," while on the other side there are none, which Harwin hopes will encourage interaction among neighbors.
Green coffees purchased from specialized importers, such Ethiopia-focused Keffa Coffee and Costa Rica-focused Hacienda La Minita, are roasted for balanced and familiar flavors, as the brand introduces itself to the community. Harwin meanwhile is preparing to delve into some wilder offerings soon.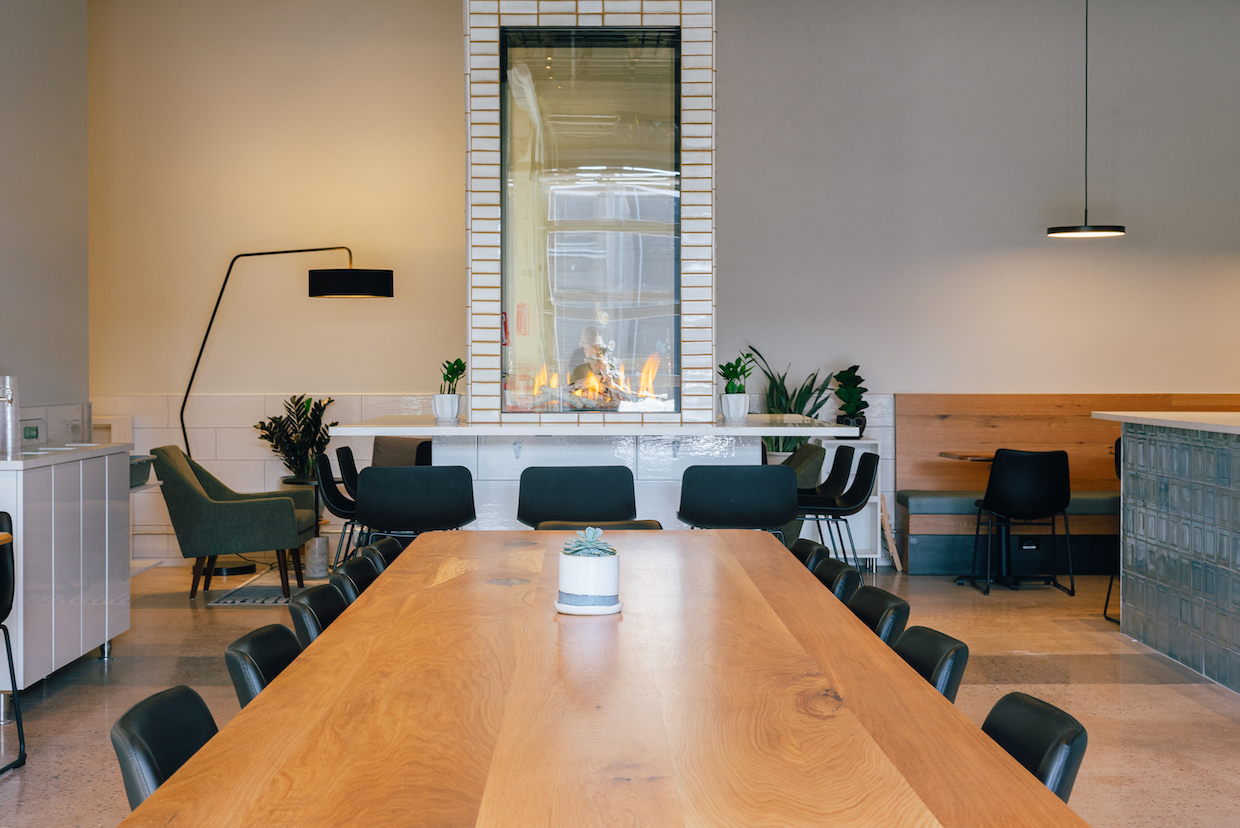 "We have some really exciting coffees that I'm working on purchasing that will definitely take people on more of a roller coaster of flavor, if you will," said Harwin. "Some really good anaerobic naturals or something like that are definitely in the pipeline. However, just to get my doors open, the most important thing was to find coffees that I knew the vast majority of people would like, and I think we're doing that pretty darn well."
With beer and wine licenses up his sleeve, Harwin plans on extending Glissade's offerings into evening pints and glasses, rounded out with low- or no-alcohol mocktails, charcuterie, tapas and other light bites. Wholesale and online retail coffee sales will be launching next month.
"It is my intention to be a bit of a destination for specialty coffee," said Harwin. "I want to put a little flag in the sand and say that I have an incredible team behind me that is really excited about putting the best product possible forward."
---
Glissade Coffee Company is located at 2520 Galena St, Unit 3, in Aurora. Tell DCN's editors about your new coffee shop or roastery here. 
More From DCN
Howard Bryman
Howard Bryman is the associate editor of Daily Coffee News by Roast Magazine. He is based in Portland, Oregon.