Spanish coffee grinder maker Compak is launching the Bolt, a new commercial machine capable of grinding either on demand or automatically with a set number of doses.
The on-demand and pre-grinding functions are available in modes that Compak calls "Fresh" and "Predose," respectively.
In Fresh mode, users can set the duration of grinding to determine the dose, and store three predetermined time-based doses to be ground on demand. A built-in recognition system detects which dose to grind based on the specific portafilter.
In Predose mode, the grinder will grind and accumulate portions of coffee inside a dosing chamber. A trap door releases the full dose all at once, then closes to immediately grind and store the next dose automatically. The intent is for Predose mode to be used during peak busy times while still maintaining freshness.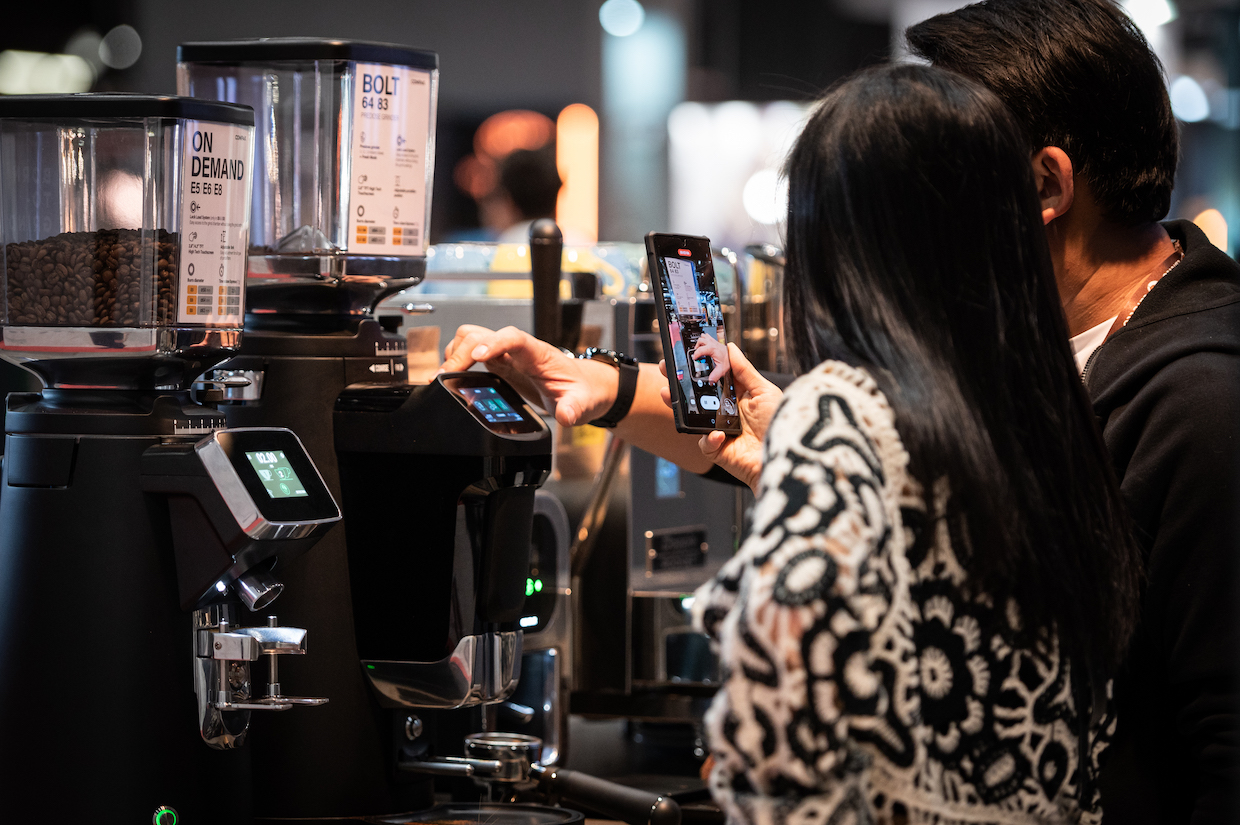 "It merges two worlds," Compak America Managing Director Josh Fields told Daily Coffee News. "It's the intersection of what came before with what we have today. Espresso grinders at their origin were doser grinders. That transitioned to on-demand, direct-to-portafilter fresh grinding. The Bolt does both of those things in one grinder, bringing what's possible in espresso grinding full circle."
Fields said the Bolt is able to match the speed of traditional doser grinders while better ensuring freshness through successions of shots by providing one or two backup doses at a time, and not more.
"In high production, busy cafe applications, [doser grinders] are very effective, but they were flawed because people would grind too much," said Fields. "If you fill a doser, you're just not going to go through it quickly enough for it to still be fresh, but if you just have two [doses] and you're busy, you're going to through them in a matter of seconds."
The Bolt is launching with two models: The Bolt 64 is centered on 64-millimeter flat burrs, and the Bolt 83 has 83-millimeter flat burrs. In the Bolt 83, burrs are spun at 1,200 RPM by a 610-watt motor producing seven grams per second of coffee ground for espresso.
The new grinders also feature a mechanism for accessing the grind chamber for cleaning, without losing the grind setting.
Baristas interact with a 2.8-inch TFT touchscreen to configure and select doses, and to receive usage stats and maintenance notifications. The grinders' hoppers hold approximately 1.25 kilograms (2.75 pounds) of whole beans.
The Bolt can further accommodate speed and precision through an optional built-in manual tamper on the front of the machine. For units not outfitted with the built-in tamper, Compak recommends pairing the grinders with its Cube automatic tamper tool.
The Cube will also be providing that service for the first time this year in some of the highest-stakes drink preparations of all, on stage at the 2023 US Barista Championship in Portland next month.
Fields has confirmed that Compak will be the event's official E-Tamper Sponsor, and that the Cube will be the first officially sanctioned automatic tamper for use in competition in World Barista Championship history.
"This is groundbreaking stuff," said Fields. "It's finally saying that in the world of competitive baristas, which is the vanguard of specialty coffee at its highest level — where innovation and discovery really happens — you'd be using an auto-tamp. I know some [competitors] will use it. Some have already expressed interest in it, because you won't lose points for tamping. It's an automatic way to get a perfect tamp score, and it just gives them a little bit more time and energy to focus on the variables that they're emphasizing."
Compak Bolt grinders will also be on display at the SCA Expo in Portland next month where the company will start accepting preorders for the Bolt 64 at $3,500 and the Bolt 83 at $3,850. Delivery of Bolt grinders is expected to begin by early Summer.
---
Does your coffee business have news to share? Let DCN's editors know here. 
More From DCN
Howard Bryman
Howard Bryman is the associate editor of Daily Coffee News by Roast Magazine. He is based in Portland, Oregon.