Just south of downtown Atlanta, a new coffee spot called Peoples Town Coffee Bar is already reaching more people than its owners initially anticipated. 
"It's very interesting to consider that we all pictured it as very hyper local, but it's turning out to be a good bit more," Peoples Town Co-Founder Zach Thoren recently told DCN. "The bubble is bigger than we thought it might be."
In a historic section of the city that is currently undergoing revitalization through the Atlanta BeltLine project, Peoples Town is technically located on the first floor of the new 55 Milton Apartments complex. While serving those residents, the shop has also accommodated people from much farther afield. 
"We're the southernmost specialty coffee shop on the way to the airport," Thoren said. "We're absorbing northern traffic coming south to the airport because they want somewhere on their way. We're seeing people coming from the airport, coming from all the outer suburbs." 
The shop was founded by Thoren, his partner Alexandra Brigham and friend Andy Bibliowicz, all of whom have been living within about a mile of the new shop prior to the opening. 
Thoren, who has professional experience in the craft beer world, said his attention began shifting more towards coffee over the years, and the cafe concept became a "twinkle in our eye" about two years ago. 
"I started getting bigger into specialty coffee and learning about the process and roasters, the actual cafe experience," he said. "I almost never feel more at home outside my own home than when I'm at a cafe."
Quality coffee with none of the snobbery is a stated goal at the Peoples Town coffee bar, where roasted beans come from Greenville, South Carolina-based Methodical Coffee and Atlanta's own Portrait Coffee. 
Thoren said the Peoples Town crew checked out more than a dozen roasters for wholesale relationships and found that Methodical checked almost all the boxes they were looking for, including expert staff training from the former and gracious local support from the latter.
"Portrait is eight minutes down the road from us; they're very local," Thoren said. "They'll drop off coffee if we're in the middle of a rush. That's the intangible stuff I don't expect."
Those coffees fuel standard cafe menu options alongside some more creative signature drinks like the "Cold Brew Concoction," which features a Portrait single-origin bean with oat milk, simple syrup and orange bitters. The seasonal maple latte features a house-made syrup and spice mix that includes pure maple syrup from Thoren's hometown in Ohio.
Said Thoren, "I had my dad ship me a gallon or two of Ohio maple syrup because it's something I grew up with."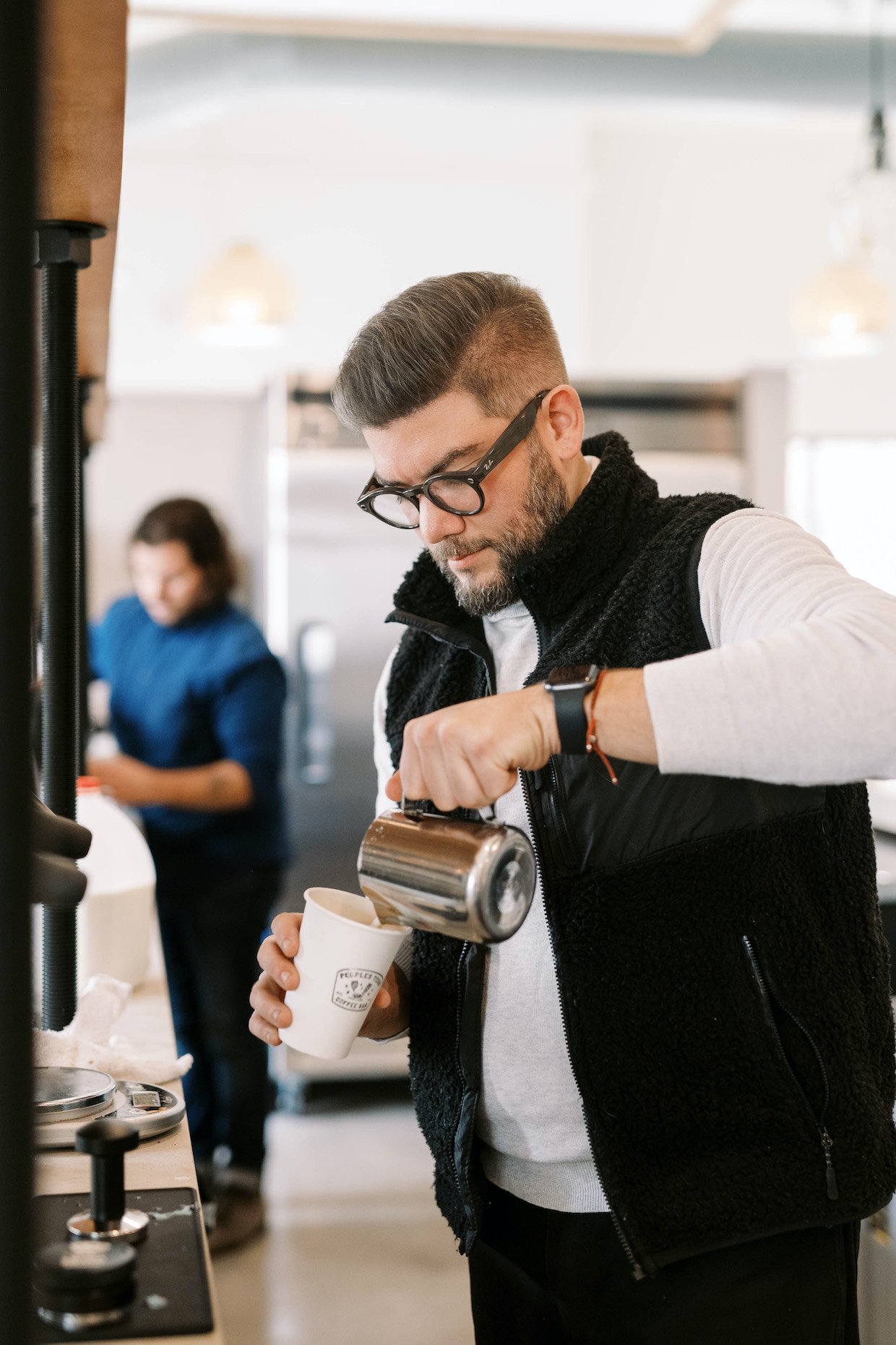 True to its name, Peoples Town Coffee aims to provide a comfortable gathering space for the community, while providing fun ways to engage customers. Later this month, Peoples Town will host "Taylor Swift Week" in conjunction with the singer's tour stop in Atlanta, featuring signature lattes and cocktails, as well as trivia and discounts. 
Said Thoren, "This place can be an expression of the people that make it up."
---
Peoples Town Coffee Bar is located at 55 Milton Avenue in Atlanta. Tell DCN's editors about your new coffee shop or roastery here. 
More From DCN
Libby Allnatt
Libby Allnatt is a writer with a passion for trying new coffee shops. She lives in Salt Lake City, Utah.