Taking over her family's coffee farms was a transformative experience in the life of renowned Brazilian coffee producer Carmen Lucia de Brito.
She had been living in Rio de Janeiro with a passion for psychology leading to a career in higher education. Yet when her father passed away 15 years ago, she returned to the countryside to help run the family business. 
"Continuing and honoring our history with coffee, which had existed for a hundred years, was what really motivated me to leave Rio de Janeiro, leave the university and my job to return to Minas Gerais and work in the farm," de Brito told DCN through a translator.
De Brito now oversees the Caxambú and Aracaçu farms near Três Pontas in southern Minas Gerais state. In addition to 13 coffee varieties that are commercially cultivated at the farms, separate plots accommodate 23 exotic or experimental varieties. 
A past president of the Brazil Specialty Coffee Association (BSCA), De Brito takes particular pleasure in exploring the inherent characteristics and potential of each new variety through careful cultivation and processing innovations. 
"When we learn about all the sensory analysis of all the coffees we produce, we learn to respect each one of them and interpret everything that each one can offer us," she said.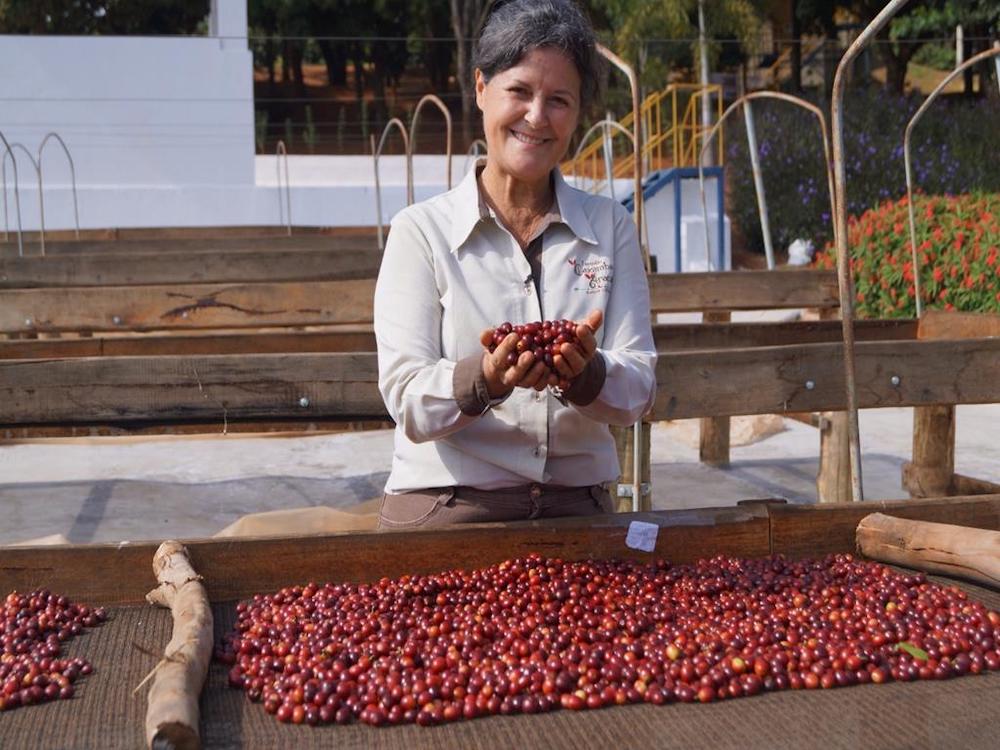 In 2008, when de Brito took the reins of the family farms, there weren't many women in agricultural leadership positions. Recognized as one of the 20 most powerful women in agribusiness by Forbes in 2021, de Brito has helped to transform that reality, serving as an inspiration for other women. 
De Brito said women bring unique strengths to coffee farming and business in general. 
"(When) I think about the need to rethink our way of growing coffee, including in our work environment the new perspectives that the world demands, I think that the presence of women in the field will be fundamental for building a positive vision to generate real impacts in the construction of sustainable development," she said.
DCN recently asked de Brito the following three questions.
[Note: Translations were facilitated by representatives of the Brazil Specialty Coffee Association (BSCA), and ApexBrasil, and answers were shortened for clarity.]
What about coffee inspires you most?
I could say several things but I'm going to highlight the growing importance that coffee has assumed in the universe of world consumption. It's beautiful to follow the growth of young people who are passionate about coffee and sensitive to wanting to know better about the productive sector and the people that are behind a cup of coffee… Knowing that our lives actually matter to the people who love what we do is just wonderful.
What about coffee troubles you most?
I think we all need to learn to dialogue more, have more listening skills, seek to understand different realities and, thus, be more welcoming, supportive and collaborative. The agricultural sector needs to build stronger and clearer narratives to more legitimately clarify its role in the world. We can't allow that anyone speak in our name, without even listening to us, putting all of us in a common place.
We live off the land and we take care of it as if we were taking care of someone very dear to us. For us, the meaning of a falling rain, a blowing wind, the sunlight that illuminates a plantation, is definitely different from what it is for those who live in other territories.
I understand that the biggest challenges for our sector, the world of coffee production, involve making everyone understand that there is no future for anyone if there is no future for everyone!
What would you be doing if you weren't doing coffee?
Without a doubt I would be teaching at universities, doing what I also love to do: sharing with people a little of what life teaches me. Education is a sector that, like coffee, fascinates me. Furthermore, I am a person who loves to learn and there is no greater way to learn than being with students in a classroom.
---
Is there someone in coffee who inspires you? Nominate that person for DCN's ongoing "Three Questions" feature. 
More From DCN