Welcome to DCN's Weekly Coffee News. Keep up with all the latest coffee industry stories and career opportunities by subscribing to DCN's newsletter. Tell our editors about your news here. 
UK Government Joins International Coffee Agreement
The UK government has joined the International Coffee Agreement (ICA) 2022. A signing between the International Coffee Organization and UK agricultural minister Mark Spencer took place alongside the annual meeting of the British Coffee Association (BCA).
First established to regulate coffee export quotas in 1962 to help steady global coffee prices, the ICA has historically served as a multilateral agreement among governments representing coffee-producing and coffee-consuming countries. While the agreement has no regulatory teeth, it has promoted pre-competitive collaboration towards a more sustainable global coffee sector.
Green Coffee Giant NKG Makes Leadership Changes
Multinational coffee conglomerate Neumann Kaffe Gruppe (NKG) has announced that Ruben Scholz is taking the reins as Group Chief Operating Officer, while Jörn Severloh has been appointed Group Chief Business Development Officer. Scholz has been with the company for more than 25 years, including as Managing Director for Bero Coffee Singapore.
Eximware Donates $10,000 to CQI Origin Fund
Commodity trading software provider Eximware has donated $10,000 to the Coffee Quality Institute (CQI) Origin Fund. CQI is a nonprofit organization that provides education, training and technical assistance to people in the coffee industry while also maintaining the Q Grader certification program.
Water Avenue Coffee Launches ZigZag Cold Brew
Portland, Oregon-based Water Avenue Coffee has introduced a new RTD cold brew line called ZigZag Organic Cold Brew Coffee. The cold brew will be available at Water Avenue Coffee's two cafes, at major retailers and online. The line is named after the ZigZag tributary of the Sandy River in Oregon, and the cold brew has flavors of milk chocolate, orange zest and cherry. Water Avenue Coffee has been making waves in Portland since 2009.
SCA's 2023 Best New Product Winners
The Specialty Coffee Association determined the winners of the 2023 Best New Product Awards at the recent SCA Expo in Portland. Winners include the Latte Art Factory Bar Pro, Breville's Barista Touch Impress, Torani's toasted black sesame syrup and Rarebird's Px coffee. The annual awards recognize high-quality products bringing value to the industry.
Starbucks Unveils New Mission Statement
New Starbucks CEO Laxman Narasimhan last week unveiled the company's new mission: "With every cup, with every conversation, with every community — we nurture the limitless possibilities of human connection.[sic.]" Along with the new mission statement came promises to six groups: partners (i.e. employees), customers, farmers, communities, the environment and shareholders. Narasimhan took over as CEO of the coffee giant last month.
Caribou Coffee Announces Plans for 300+ Franchise Locations
Minnesota-based coffee chain Caribou Coffee has announced the signing of multi-unit development agreements to franchise more than 300 locations. New shops are expected to come to Ohio, Florida, Michigan and Missouri. The company began U.S. franchising in October 2021.
Digital Coffee Future Launches 10-Hour Education Program
The firm Digital Coffee Future has announced a new education and training program called Digital Fundamentals. In partnership with The Chain Collaborative, the 10-hour Digital Fundamentals course will focus on the digitalization of coffee and the purpose of digital tools in the coffee sector. See the outline here.
Precipice Coffee's Roastery Powered Entirely by Solar Energy
Ellsworth, Maine-based Precipice Coffee says it has become the first fully solar-powered roastery in the state. Precipice Coffee roasts on a Bellwether electric roasting machine. The installation of an 8-kilowatt-hour solar array makes the operation entirely powered by clean energy, according to the company. Precipice Coffee opened in 2021 at the gateway to Acadia National Park.
Cuzen Matcha Beta-Testing Commercial Matcha Brewer
California-based Cuzen Matcha has announced the Matcha Maker for Business beta program, giving restaurants and cafes an opportunity to beta-test a commercial version of its home matcha tea maker. The commercial brewer is expected to be launched in 2024, and businesses interested in participating in the beta test can apply here.
Coffee By Design Launches Barrel-Aged Coffee Series
Portland, Maine-based Coffee By Design has launched the first offering in its "Spirits Alive" series, in which the company is partnering with local distilleries for barrel-aged coffees. Created with Three of Strong distillery, the Dame Alice Greele medium-light roast coffee is named for a famous Maine tavern owner known for fighting back during Henry Mowatt's 1775 bombardment of Falmouth. Coffee By Design was Roast magazine's Macro Roaster of the Year in 2020.
Tea Chai Té Rebrands as Portal Tea Company 
Oregon-based tea company Tea Chai Té has announced a name change and rebrand to Portal Tea Company. Along with the rebrand comes new tea sachets, chai concentrate and nitro canned iced tea. The company was founded by Angela and Dominic Valdes in 2003 and has several Oregon locations in Portland and Eugene.
In Case You Missed It
Here are some of DCN's top stories from the past week…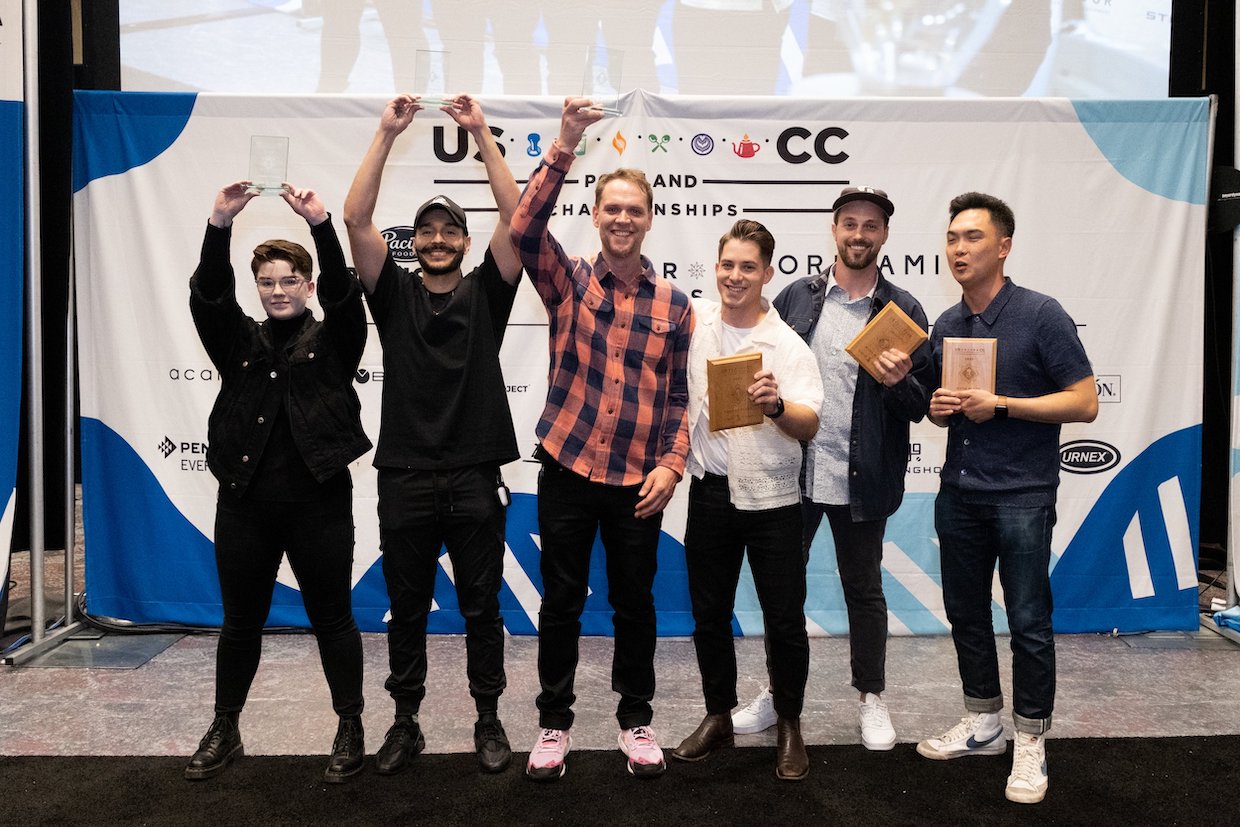 The Winners of the SCA's 2023 US Coffee Championships 
After three days of intense competitions and judging in Portland, Oregon, six people emerged as United States coffee champions and will represent the U.S. in world championship events… Read more
New Coffee Roasting Machines at the 2023 SCA Expo
As the Oregon Convention Center's searing lights power down following last week's Specialty Coffee Expo in Portland, a variety of new electric roasting machines are ready to blaze trails… Read more
Judge Approves $12 Million Settlement in Kona-Led Class Action Case
The last remaining non-bankrupt defendant in the four-year-old class action suit brought about by a group of coffee farmers from Kona, Hawaii, has agreed to a $12 million settlement, according to court records… Read more
SCA Launching First World of Coffee Event in Asia, Busan 2024
The Specialty Coffee Association has announced that its flagship European trade show, World of Coffee, will be expanding into the South Korean city of Busan in 2024… Read more
Ground Control Reveals a More Compact Brewer with Smart Airpot
Oakland, California-based coffee equipment maker Ground Control has unveiled a more compact, lower-profile batch brewer that is soon to join the brand's lineup of eye-catching commercial brewing systems… Read more
Mudhouse Coffee Roasters Makes a New Home in Charleston
Mudhouse Coffee Roasters has opened a new shop in the heart of Charleston, South Carolina. The fifth retail outpost for the Roast magazine 2017 Micro Roaster of the Year winner is the first outside of Mudhouse's home state… Read more
Mission Coffee Co. Reopens with a Blank Slate in Columbus
A mainstay in the specialty coffee landscape of Columbus, Ohio, Mission Coffee Co. is back with a new owner and a fresh space. Matt Roberson, the founder of longtime Columbus-area coffee truck… Read more
More From DCN