Welcome to DCN's Weekly Coffee News. Keep up with all the latest coffee industry stories and career opportunities by subscribing to DCN's newsletter. Tell our editors about your news here.
Coffee Breath is Back With Episode 2
The Coffee Breath documentary series is back with a second episode. "Let's Get Frothy" dives right into drinks, featuring prominent baristas, coffee shop owners and mixologists from Southern California to the Pacific Northwest. The creation of Black Rabbit Service Company co-owner Double J and Christopher Flanagan, the show launched on YouTube earlier this year with a focus on coffee culture, operations and people. Catch the latest episode here.
Blue Bottle Coffee Partners With The Weeknd for Ethiopian Line
Pop star The Weeknd is paying tribute to his Ethiopian roots with a new product line forged in collaboration with Blue Bottle Coffee. Named for The Weeknd's mother, the Samra Origins line is currently building a waiting list for its inaugural offering, an Ethiopian coffee that placed #7 in the Cup of Excellence green coffee competition. The release, which will include 100-gram tins (3.5 ounces), is part of Blue Bottle's ongoing "Exceedingly Rare" line of coffees.
Colombian Coffee Growers Federation Elects New CEO
Germán Bahamón has been appointed the new CEO of the Colombian Coffee Growers Federation (FNC) following the departure of Roberto Vélez, who held the organization's top executive position for nearly seven years.
Mothership Coffee Owner Named SBA Small Business Person of the Year Runner-Up
Juanny Romero, the CEO of Henderson, Nevada-based Mothership Coffee Roasters, was recently honored as the runner up of the SBA Small Business Person of the Year. Romero was one of about 50 small business owners invited to attend a ceremony at the White House. According to numerous reports, Romero Met Vice President Kamala Harris in a West Wing hallway and shared her story. Mothership has been a driving force in the Las Vegas specialty coffee scene since its founding in 2012.
Labor Board Prosecutors: Starbucks Failed to Negotiate in Good Faith
U.S. labor board prosecutors have alleged that Starbucks refused to negotiate in good faith at 144 unionized cafes, Bloomberg reported. According to a recent filing, the coffee giant was "demeaning" to union representatives and had no intention of reaching agreements when bargaining. Starbucks has refuted the allegations.
Westrock Coffee Company Releases Sustainability Report
Arkansas-based Westrock Coffee Company has released its 2022 corporate sustainability report. Among the findings was that farmers earned a 23% average gross profit margin in supply chains where Westrock Coffee analyzed cost of production. Westrock Coffee recently acquired California-based Bixby Roasting Co.
Fairtrade Australia and New Zealand Appoints New CEO
Senthil Nathan has been named CEO of Fairtrade Australia and New Zealand (ANZ). Nathan was recently involved in a study to develop carbon footprint baselines with participation from companies such as Nestle, JDE Peet's and Lavazza.
Research Shows Link Between Coffee and Brain Health
New research has demonstrated a link between coffee consumption and the thickness of the macular retinal nerve fiber layer, which can be an indicator of brain health. The study examined more than 35,000 participants.
Study Shows Potential Usage of Recycled Coffee Pods
A new study shows that coffee pods can be recycled to make filament for 3D printers. The research was conducted by groups in Brazil at the Federal University of São Carlos (USFCar) and the State University of Campinas (UNICAMP), and in the United Kingdom at Manchester Metropolitan University (MMU).
Planting Hope Reports Record 2022 Revenue
Plant-based food and drink company Planting Hope reported record revenue of $12.2 million in 2022, a 358% increase from 2021. According to the company, a significant driver of revenue followed the rollout of Planting Hope's sesame-based Hope and Sesame milk in the commercial cafe sector.
GrainPro Partners With GarGeon on Malaysia Waste Programs
Crop storage and handling company GrainPro and Malaysia-based technology company GarGeon are teaming up to optimize waste management and recycling in the Southeast Asian country. The partnership seeks to expand the reach of GarGeon's initiatives for more efficient, modern and sustainable waste management.
In Case You Missed It
Here are some of DCN's top stories from the past week…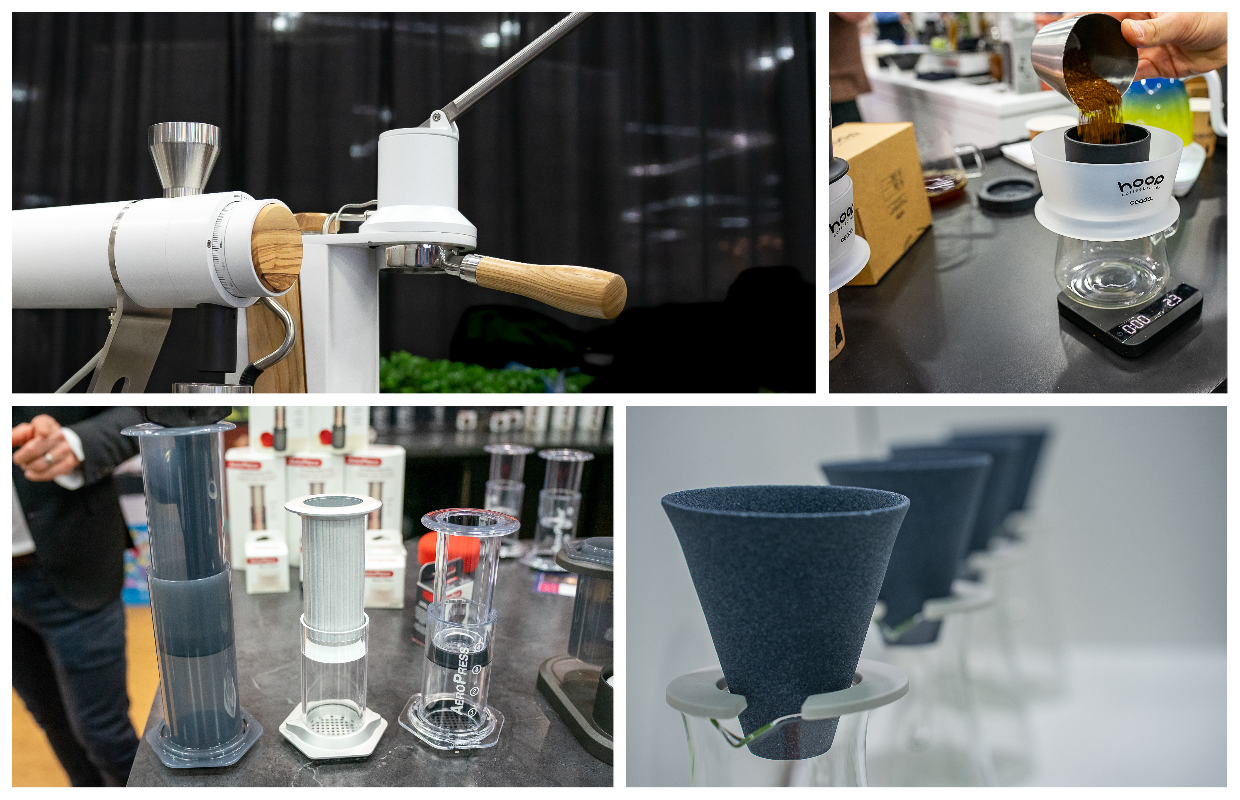 New Home Coffee Brewers at the 2023 SCA Expo
Fast, slow, heavy, light, pointy, flat — manual coffee brewers of all shapes and sizes were on display at the recent 2023 SCA Expo in Portland, Oregon… Read more
Design Details: Perc Coffee Gets Wild, Balanced and Mild
Savannah, Georgia-based coffee roaster and retailer Perc Coffee (styled "PERC" by the company) has rolled out colorful new bags. With a design led in house by Brad Praria… Read more
2023 Hawaii Coffee Association Conference Coming to Kauai
The 28th annual Hawaii Coffee Association conference and trade show is coming to the island of Kauai next month. The show will also host the 14th Hawaii statewide cupping competition… Read more
Aramse's Sofi 72 Modernizes the Classic South Indian Filter Brewer
India and UK-based specialty coffee subscription company Aramse has introduced a modern take on the classic South Indian filter coffee brewer with the Sofi 72… Read more
Elliott & Murrey Offers Coffees 'Roasted by Mom' in Hillsboro, Oregon
As coffee roasters all over the United States appeal to shoppers heading into Mother's Day, a young coffee company in Hillsboro, Oregon, is hoping shoppers will consider something "Roasted by Mom"… Read more
Minnesota-Based Folly and Philtera Join FairWave Coffee Group
Kansas City, Missouri-based FairWave Holdings has made undisclosed investments in two Minnesota-born coffee companies, Folly Coffee and Philtera Cold Brewed Coffees… Read more
With Novel Acquisition, Cherry Coffee Enters Fruitful New Chapter in Texas
Fort Worth, Texas-based Cherry Coffee Shop has acquired fellow Texas-based wholesale and e-commerce company Novel Coffee Roasters… Read more
More From DCN