For decades, the coffee industry has been propped up as an example of sector-wide sustainability, with many actors throughout the coffee chain using similar strategies and language to define and promote sustainability initiatives to the public. 
However, the assumption that everyone involved in the coffee industry has similar priorities around sustainability-related issues may be false.
While preparing to hold discussions with coffee industry actors during the 2023 Specialty Coffee Expo on the need to include the voices of farmers and farmworkers in sustainability discussions, the organization Rural Voices conducted a pilot survey of more than 150 coffee consumers in the United States and nearly 100 coffee farmers in Honduras.
Although the survey is limited to this relatively small sample size, the results highlight a disconnect between coffee consumers and coffee farmers in their perceptions of sustainability issues. 
One of the starkest examples of this disconnect came through the question, "Do you think the sustainability movement has been beneficial for coffee farmers?" 
Nearly four out of five consumers (78%) answered "yes," while fewer than one in three farmers (31%) said "yes."
This concerning result suggests a significant gap in perceptions between these two groups. It's crucial to understand why these perceptions differ and how they can be addressed to improve the efficacy of our efforts to build a more sustainable coffee industry.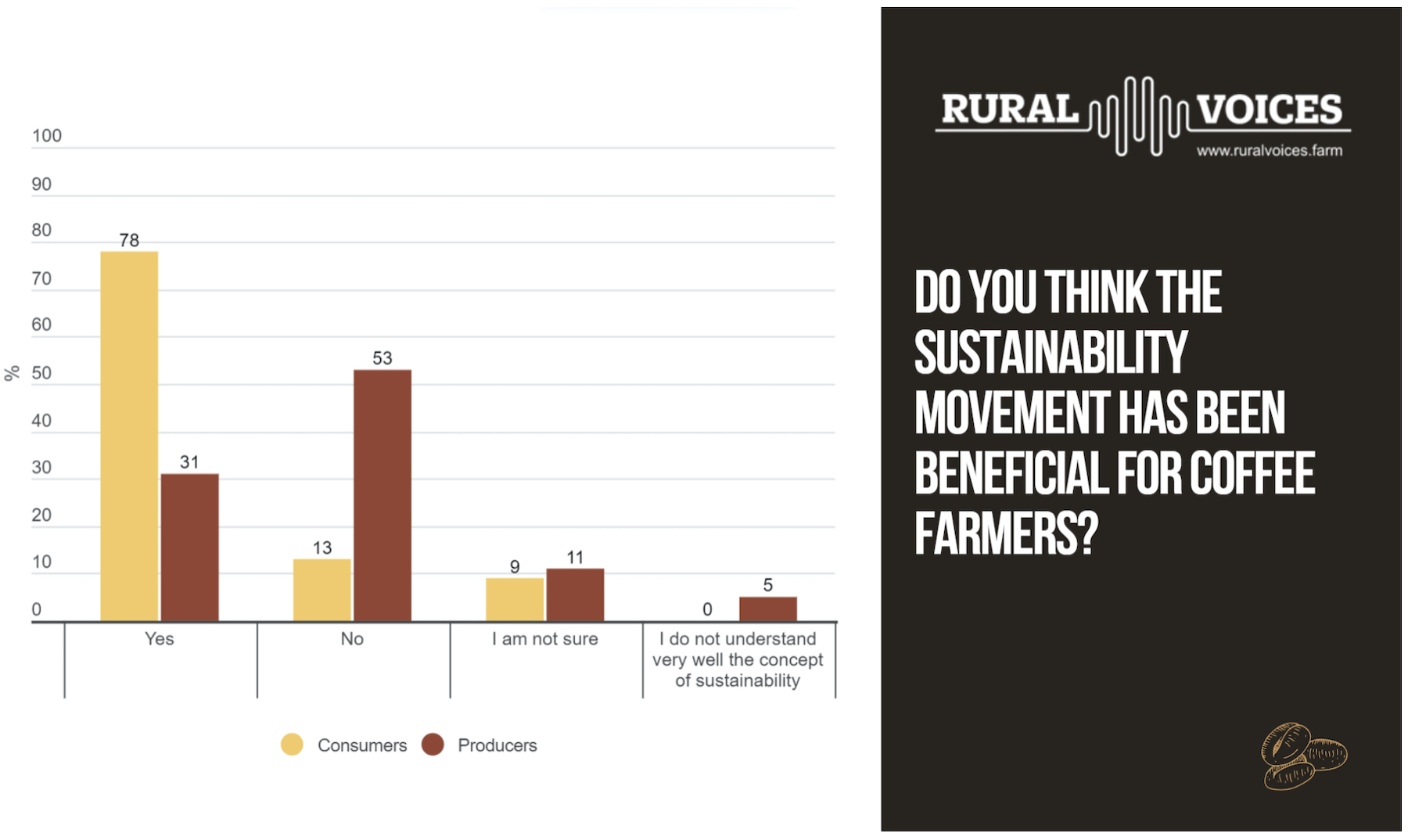 When the survey broke down the topic of sustainability in regard to the future of coffee, consumers said that environmental topics were more important, while farmers thought economic aspects were more important. 
This disparity reflects yet another gap in perceptions of what matters to each group, while also underscoring the need for further understanding.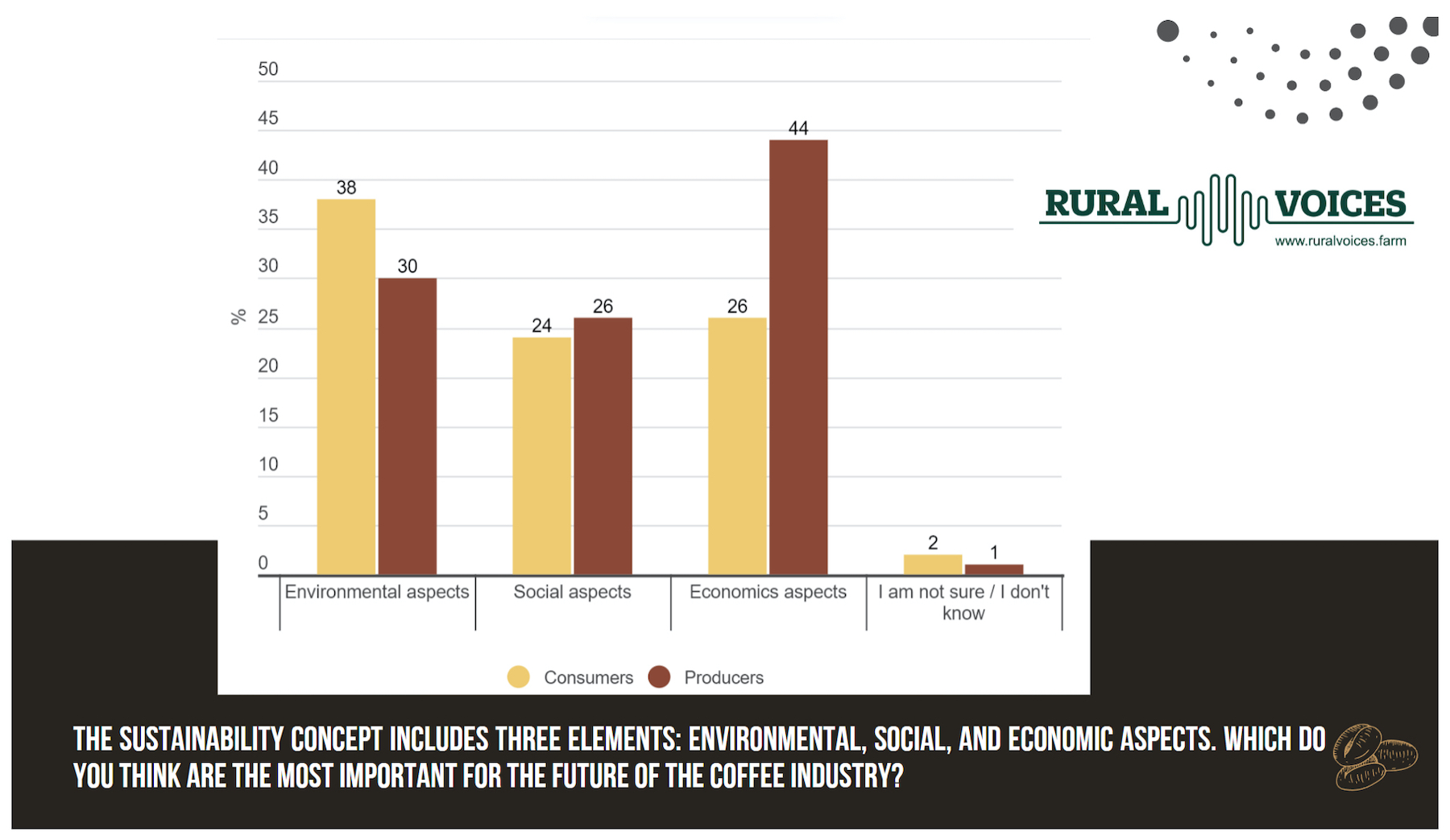 Another difference identified in the survey was how consumers and farmers weighed the importance of different topics in coffee farming.
For example, consumers gave more weight than farmers did to the issues of gender equity and working conditions of farmworkers. Conversely, farmers placed increased weight on the issues of migration, climate change and adequate prices.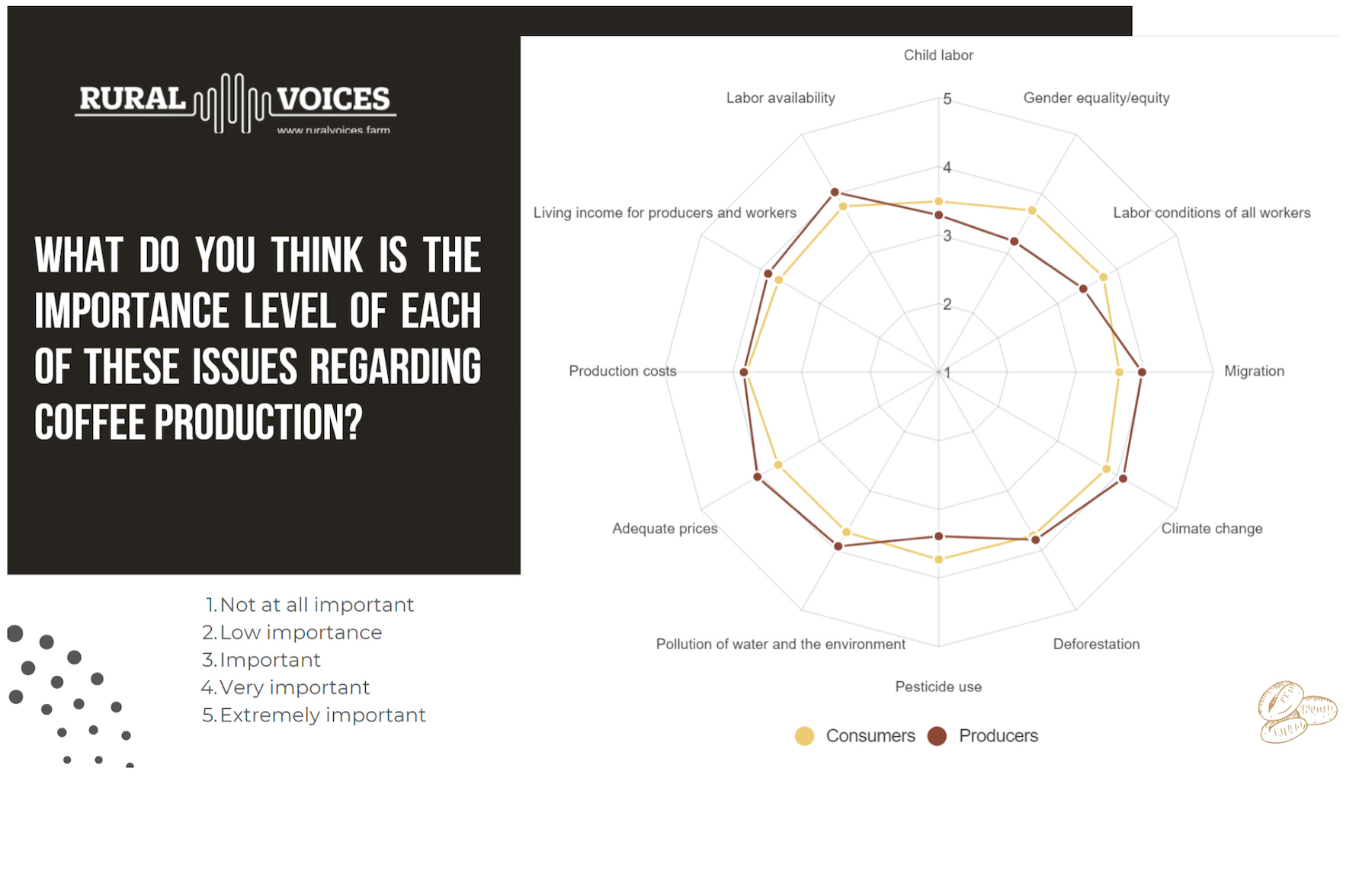 In addition to showing disparate perspectives on current conditions, the survey showed differing views on how sustainability in the coffee sector may be improved moving forward. 
Farmers considered "paying farmers better prices" and "buying directly from farmers" to be the most important alternatives for the coffee industry to improve the sustainability of farming. Conversely, consumers were more evenly split between eight different strategies through which to make farming more sustainable.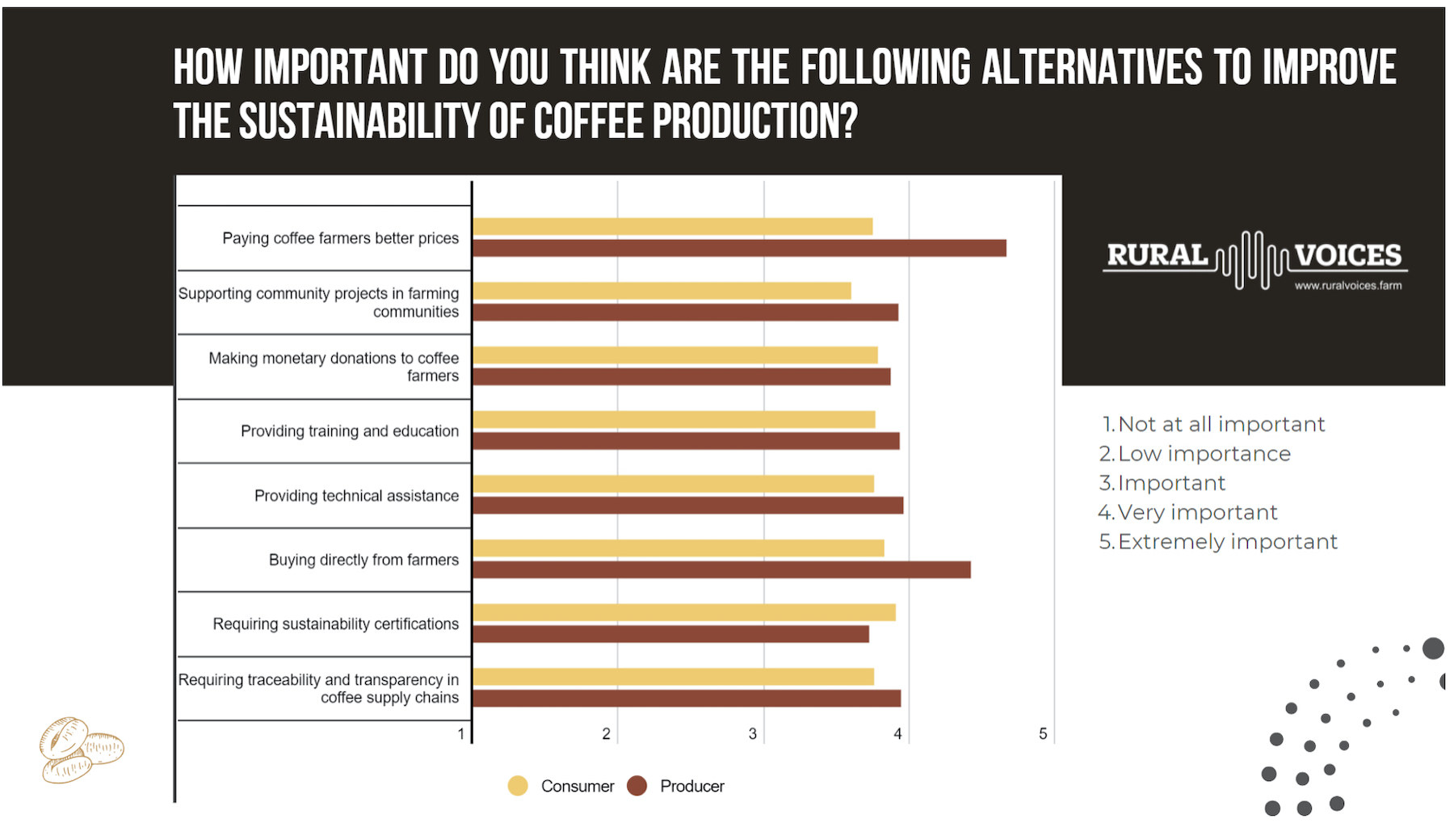 In short, consumers and farmers had different ideas on how to improve the sustainability of the coffee industry.
Whereas consumers may prioritize environmental issues, or issues such as gender equity, farmers may prioritize economic issues such as fair prices.
A key to improving sustainability in the coffee industry is to listen to the voices of all stakeholders, including farmers and farmworkers. Over the years, this has proven to be difficult to implement, as we have seen countless sustainability initiatives with zero or limited farmer and farmworker representation during the design of the work and the evaluation of the results. 
Effectively including the voices of farmers and farmworkers will help us to understand each other better and work together towards solutions that work for all relevant parties.
Farmers and farmworkers have great insights about the sustainability initiatives that have been traditionally implemented in coffee (certifications, verifications, development programs being implemented in their communities, etc.). They know what works, what doesn't work and why.
Companies can greatly benefit from learning more about the perspective of farmers and farmworkers in their extended supply chains, both to manage risks as well as to improve the effectiveness of their sustainability investments.
At the same time, most farmers do not have enough information about the drivers behind the sustainability decisions of companies and consumers who purchase their coffee. Consumers, companies and farming communities could benefit from having more direct information about each other's perspectives. 
This should start with companies seeking to bring the voice of those rural communities to the design and implementation of their sustainability efforts. The prospect of a sustainable coffee sector can only be realized if the voices of farmers and farmworkers are meaningfully included in sustainability initiatives.
---
[Daily Coffee News does not engage in sponsored content of any kind and all views or opinions expressed in this piece are those of the author/s. You can reach our editors here.]
More From DCN
Carlos Carpio and Miguel Zamora
Professor Carlos Carpio, PhD teaches and researches agricultural economics topics at Texas Tech University and collaborates in research projects with Rural Voices. With Rural Voices, Miguel Zamora aims to amplify the voice of farmers and farmworkers while supporting companies to build more sustainable supply chains.