Italian espresso equipment company Rancilio recently unveiled the Bond, the first grind-by-weight (GBW) grinder offered by the brand.
Users of the commercial grinder can designate the desired weight in grams through a touchscreen interface, then the Bond's built-in lode cell weighs grounds as they accumulate in the portafilter.
The Bond's on-board electronics also include a self-adjustment mechanism that is controlled by an algorithm using information drawn from the flow meters on compatible Rancilio espresso machines.
"The Rancilio Bond grinder uses grind-by-weight dosing and flow rate monitoring technology to maintain a consistent grind, adjusting to make sure users are brewing in their desired time," Rancilio Group North America Product Manager Maciej Ostrowski told Daily Coffee News. "The algorithm will adjust the grind to the desired setting based on those two factors and the user's desired parameters."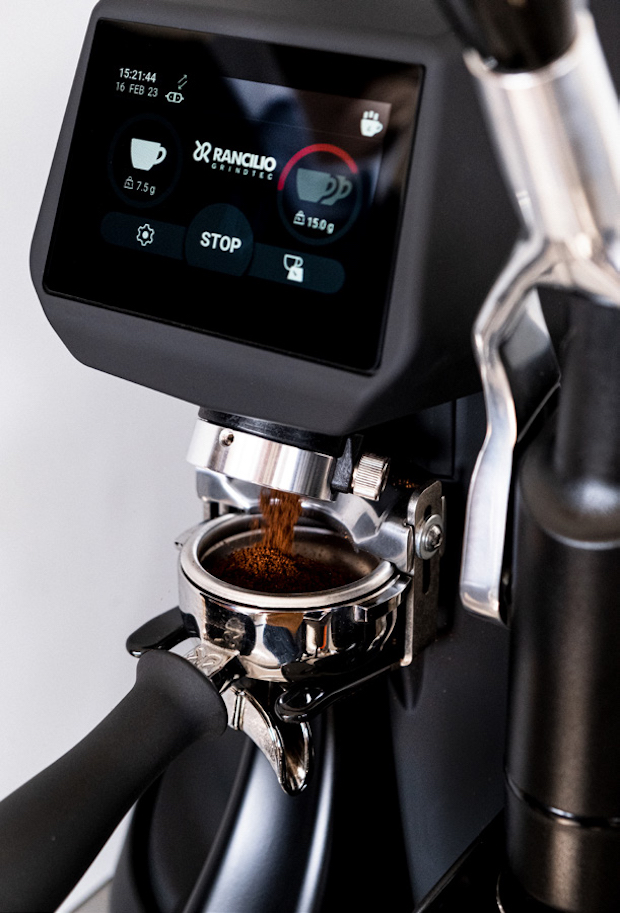 Current Bond-compatible Rancilio espresso machines are the Specialty RS1, the Invicta and four machines in the company's popular Classe line.
The Bond system also integrates with Rancilio Connect, the IoT platform for Rancilio equipment the company launched in 2021. Ostrowski said that while most users rely on Rancilio Connect as a maintenance and sales monitoring system, the option will exist for users of the telemetry system to view and modify Bond settings remotely.
"The Bond is a new grinder," said Ostrowski. "However, its technology has been tested and proven successful as a similar system and algorithm have been used in our super-automatic brand equipment, Egro, for several years."
Hardware inside the Bond includes 83-millimeter flat steel burrs, the largest burr set among Rancilio's grinder line. A 650-watt motor spins these at 1,550 RPM within the machine's all-metal case. An optional dynamometric tamper is available for mounting on the grinder's side.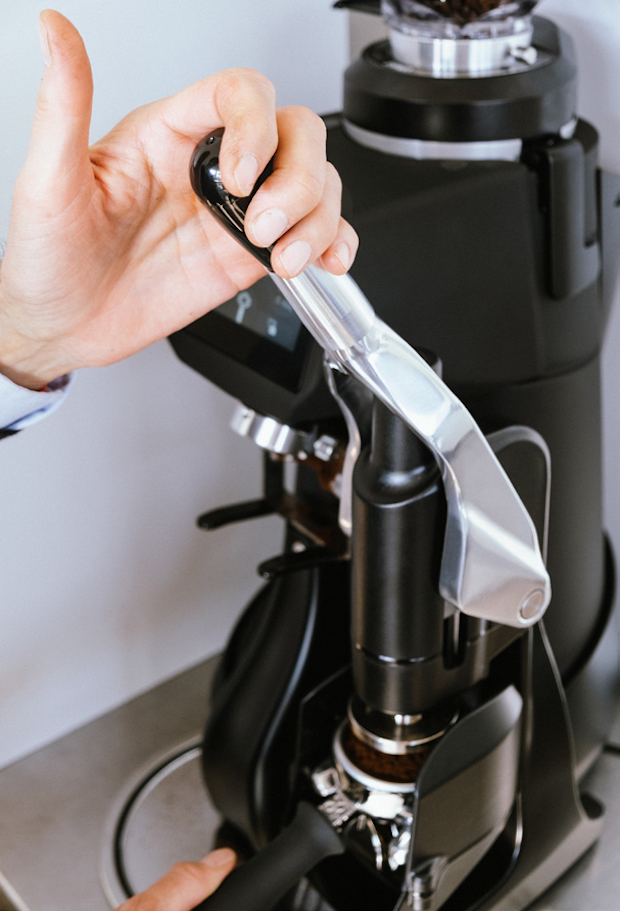 "The key is to have uniform tamping. The integrated dynamometric tamper is mechanical and guarantees uniformity and consistency, which is essential for the system to work correctly," said Ostrowski. "Consistent tamping along with consistent grinding guarantees consistent extraction."
Altogether the machine stands 12.2 x 14.8 x 28.6 inches and weighs 53 pounds. Retail pricing for North America has not yet been determined. Rancilio expects to launch U.S. sales sometime later this year.
---
Does your coffee business have news to share? Let DCN's editors know here. 
More From DCN
Howard Bryman
Howard Bryman is the associate editor of Daily Coffee News by Roast Magazine. He is based in Portland, Oregon.