Twenty years after opening their first shop in Westchester County, New York, the owners of the trailblazing coffee company Coffee Labs Roasters are celebrating the opening of a second shop.
Inside a former bank building in Eastchester, the new shop has been designed with teller-like precision, while also taking into account all the lessons learned over two decades of local coffee service in nearby Tarrytown.
White chandeliers that line the ceiling were custom-designed by a California firm to appear like coffee flower blossoms. Tables and soffit above the bar were made using wood from defunct coffee trees. 
Coffee Labs owners Mike and Alicia Love, who have devoted the majority of their professional lives to promoting high-quality coffee in Westchester County, said the design is intended to help tell the story of coffee from seed to cup.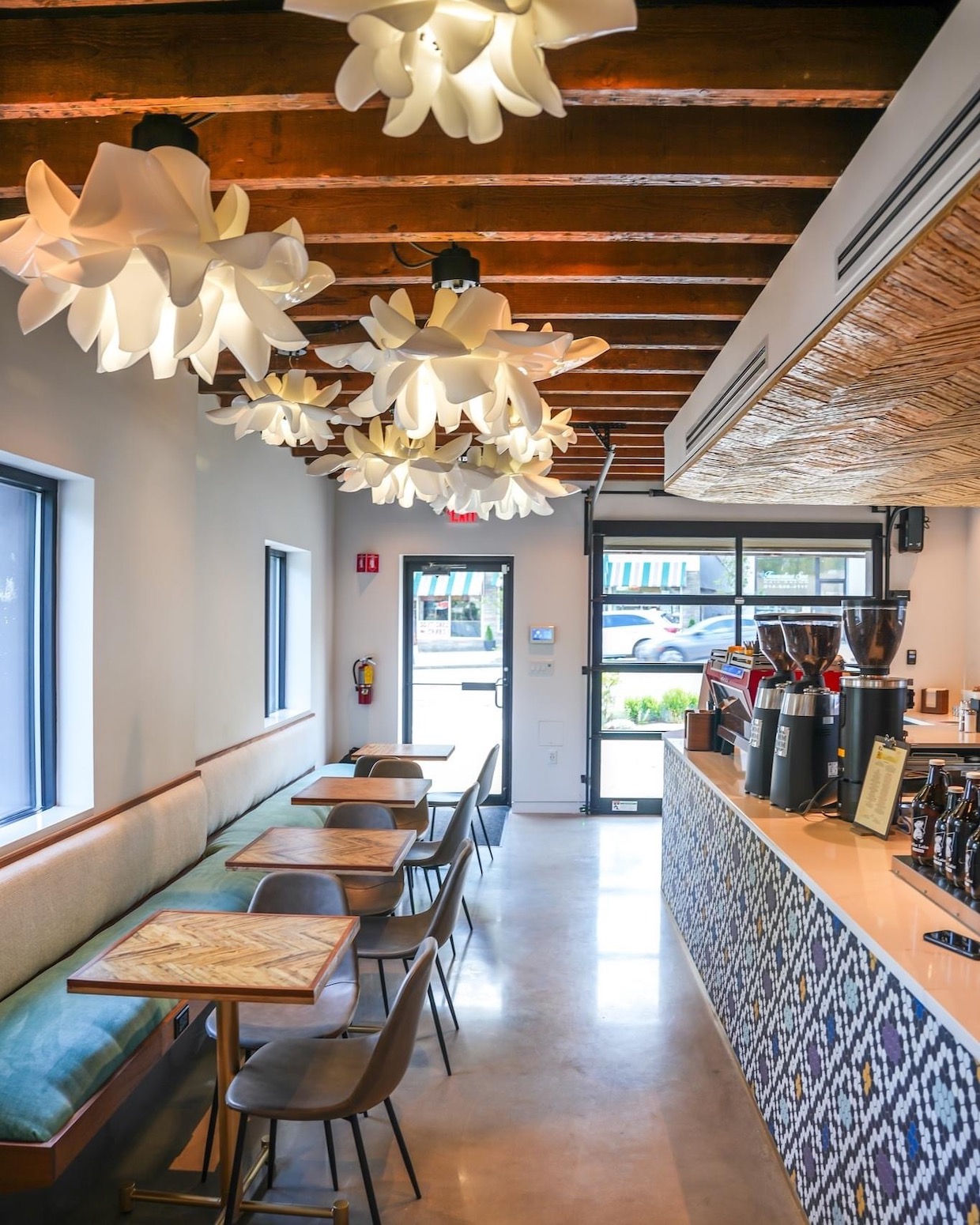 "Everyone knows us for roasting coffee in Tarrytown," Mike Love recently told DCN. "[In Eastchester,] I wanted to still convey that connection, that relationship with the farm, to the consumers."
Since opening their original roastery cafe in 2003 the Loves have had numerous opportunities to open a second shop, but nothing lined up quite right until a real estate connection called about the bank building. Said Love, "I was like, 'Hmm, this could be really fun.'"
With great potential comes great challenges, in this case literally in the form of a hulking bank vault. 
"The bank was built around the vault; the vault wasn't put in later," Love said. "What do you do with something of that volume?"
The answer was to turn it into a luxe bathroom, complete with an onyx countertop backlit with LED lights, custom wallpaper from Flavor Paper in Brooklyn and stained-glass sconces. A mural of the legendary goat-herder Kaldi adorns the inside of the door.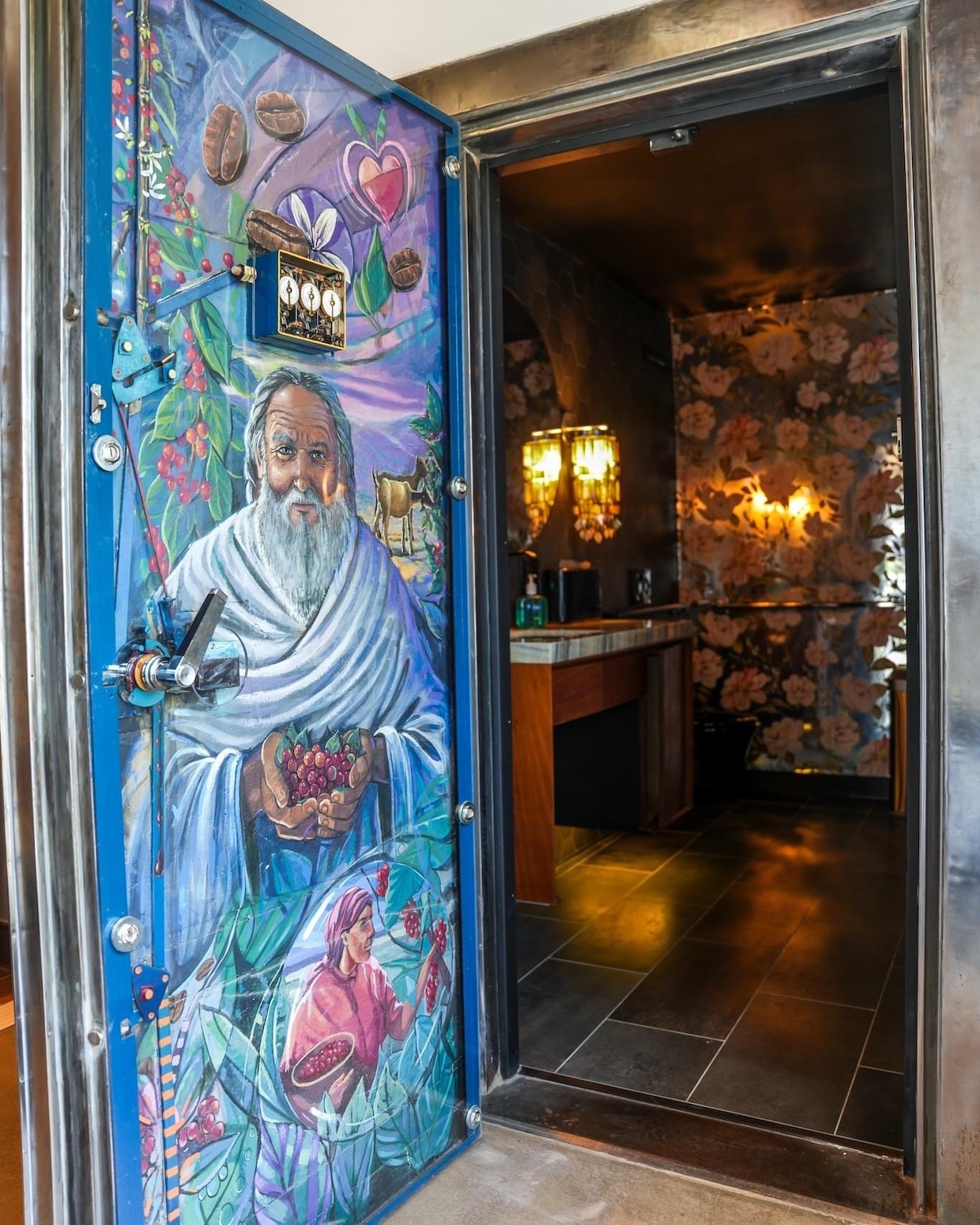 Other details address more contemporary legends, including Death Star-esque matte black tiles on the non-wallpapered side of the bathroom intended to reference Star Wars. Other color schemes and patterns found throughout the shop maintain subtle references to the space opera franchise. 
Taking a starring role against this backdrop is the coffee. One of the first "Third Wave" roasting companies in the region, Coffee Labs has built some direct relationships with coffee producers, while prizing long-term relationships, experimentation and quality. 
"It's not just that we built something beautiful," said Love. "We have the coffee and quality behind it."
Love said the new shop has thus far exceeded the owners' expectations, while customers have latched on to signature drinks, as well as bites supplied by East Coast food spots like Balthazar Bakery.
Although bank had a drive-through, the Loves decided to forego the feature for the coffee business, focusing instead on an expansive patio with walk-up windows and a garage door that opens to the inside during the warm months.
Love said that the company may want to add locations in the Northeast, with this new location being a long-coming proof of concept. 
"It's an easy footprint," he said. "It doesn't necessarily have to be a bank. This one just happened to be a bank."
---
Coffee Labs Roasters is located at 483 New Rochelle Road in Bronxville. Tell DCN's editors about your new coffee shop or roastery here. 
More From DCN
Libby Allnatt
Libby Allnatt is a writer with a passion for trying new coffee shops. She lives in Salt Lake City, Utah.