Founded by two childhood friends in San Francisco, the two-year-old independent coffee shop Telescope Coffee has broadened its horizons through a move into a new, larger location in the SoMa district. 
Upsizing from a cozy 450-square feet to 1,000 square feet, Telescope continues to zoom in on fresh-baked goods with all coffees provided by another woman-owned Bay Area company, Cosmic Dust Coffee Roasters.
Pastries, focaccias, seasonal beverage concentrates and syrups are made in-house by skilled pastry chef Jenny Ngo, who co-founded Telescope Coffee with friend Annie Ko. 
"Since we make all of our pastries on-site, we had to make the space functional," Ngo recently told Daily Coffee News. "Our new space has opened so many new opportunities. I've always envisioned hosting events and pop-ups in our cafe, but we were limited in that idea with our old location."
Seating for 18 people at oak tables and velvety chairs is spread out between pastel-shaded walls and the glow of a custom neon sign with the Telescope logo. Natural light feeds plants throughout the space, while one wall is devoted to plant propagation.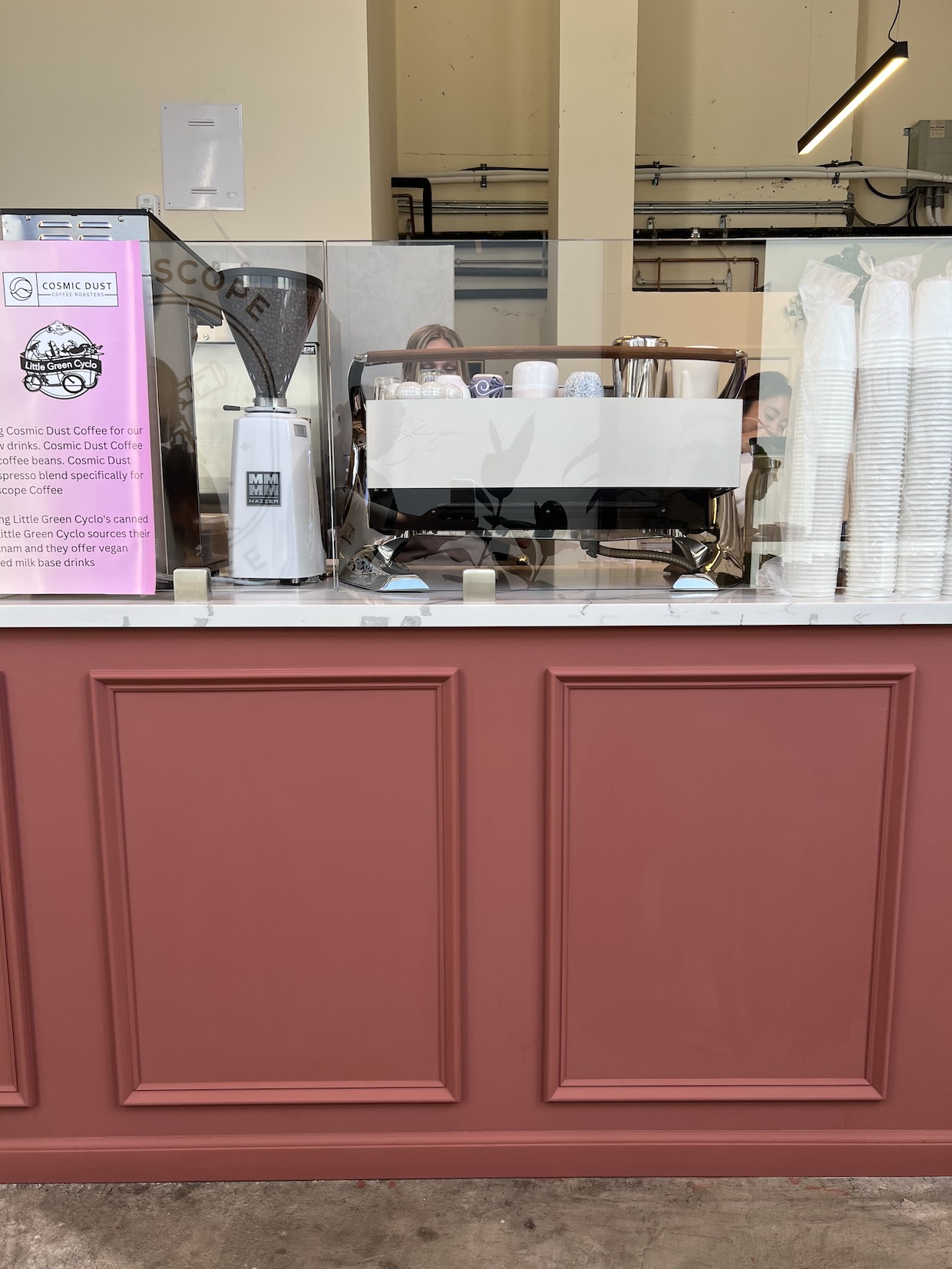 Within this environment, guests can enjoy a variety of drinks, including some inspired by Ngo's weekly trips to farmer's markets, such as the current Mandarin Clementine Salted Caramel latte.
The Telescope espresso station has grown to include a new 2-group Slayer Steam espresso machine.
The shop features a custom blend created in collaboration with Cosmic Dust and its founder, Jenny Huynh, who also provides single-origin coffees and bags of coffees for sale onsite at Telescope. 
Founded by Huynh as a passion project in 2019, Cosmic Dust focuses on seasonal coffees from smallholder farms, with a particular interest in women-run farms and coffees from Asia. Huynh roasts beans on the Loring S15 Falcon machine at Bay Area CoRoasters in Berkeley.
Through the gravitational pull of shared interests and ideals, Telescope became one of Cosmic Dust's first wholesale customers. 
"Telescope Coffee wants to highlight Cosmic Dust as much as we can because of how awesome Jenny is," said Ngo. "Our customers love interacting with us about what new single origin coffee beans Cosmic Dust has to offer and we want to highlight every little detail presented to us by Jenny."
The new space has allowed the two companies to collaborate on events such as coffee tastings and pop-ups.
"Our eventual goal is to bring more Asian coffees into our offerings and open an inclusive community space," Cosmic Dust's Huynh told DCN. "Coffee is such a huge consumable commodity and it is important to us that Cosmic Dust Coffee stays true to its values by sourcing interesting coffees, paying farmers well and providing sustainable products."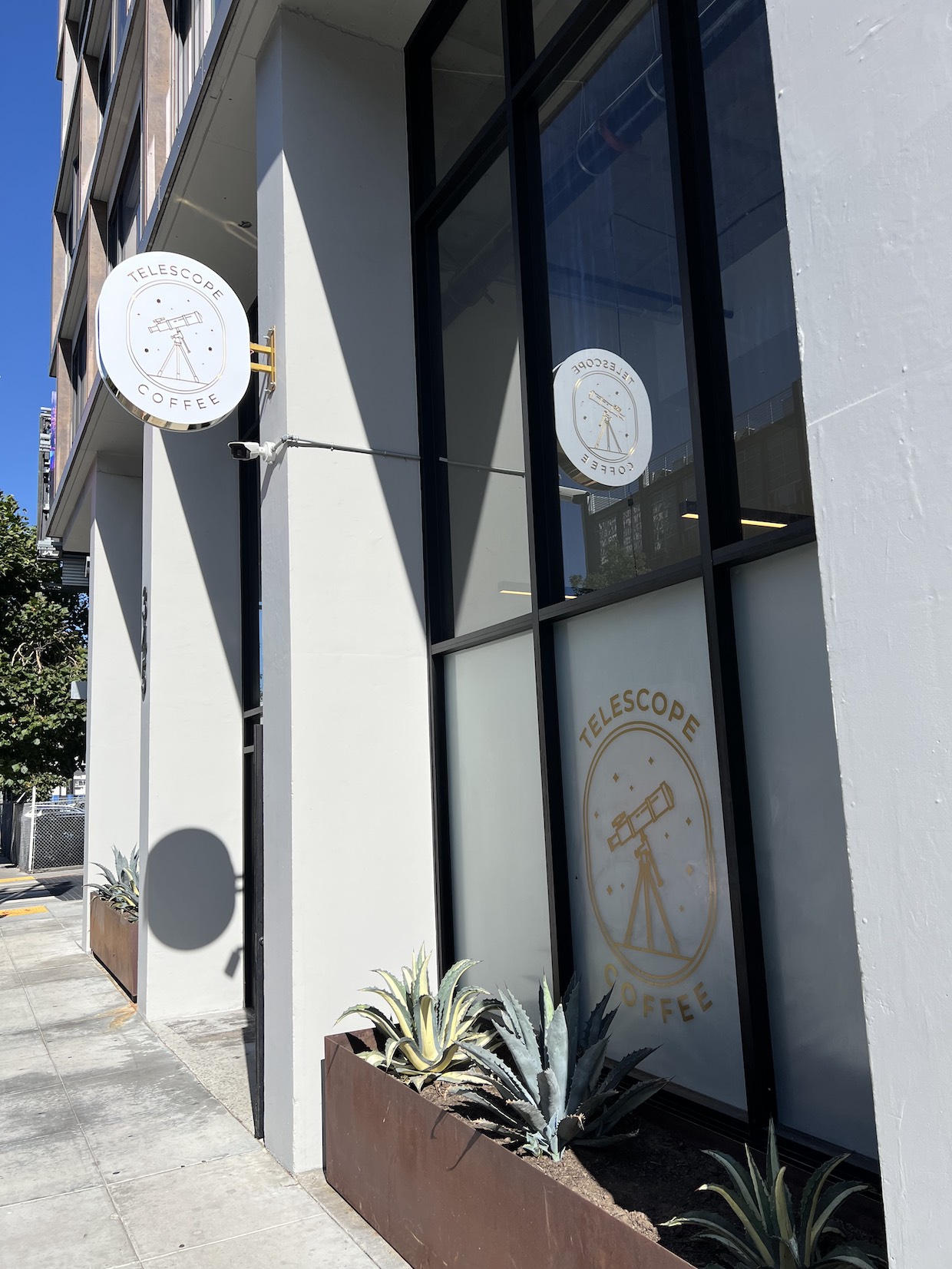 ---
Telescope Coffee is located at 345 6th St. in San Francisco. Tell DCN's editors about your new coffee shop or roastery here. 
More From DCN
Howard Bryman
Howard Bryman is the associate editor of Daily Coffee News by Roast Magazine. He is based in Portland, Oregon.