Ethiopia-focused Adee's Coffee Roasters (Instagram) is in full bloom in Baltimore's Fells Point neighborhood. The company just opened a roastery cafe shares roots with sibling shop Adee's Tulips.
Connected through interior glass door, the two enterprises come from the wife and husband team of Ayda Abebe, a former I.T professional, and Dee Alemu, who formerly worked in finance. 
Alemu now dials in roast profiles on a Bellwether roaster inside the approximately 2,770-square-foot coffee shop, while the floral arrangements next door reflect the passions of Abebe.
Adee's, whose name is a combined reference to family members and to Ethiopia's capital, Addis Ababa, focuses primarily on coffees grown in Ethiopia. Abebe told Daily Coffee News that Dee Alemu spent more than two years honing roast profiles before opening the cafe.
"He roasts in small batches and makes sure that the coffee beans get just the right flavor for our customers by overseeing the full roasting process," Abebe said.
While Adee's Brazilian and Colombian coffees are purchased from importers Cafe Imports and Hacea Coffee Source, respectively, the company sources Ethiopian coffee directly through their own contacts in Ethiopia.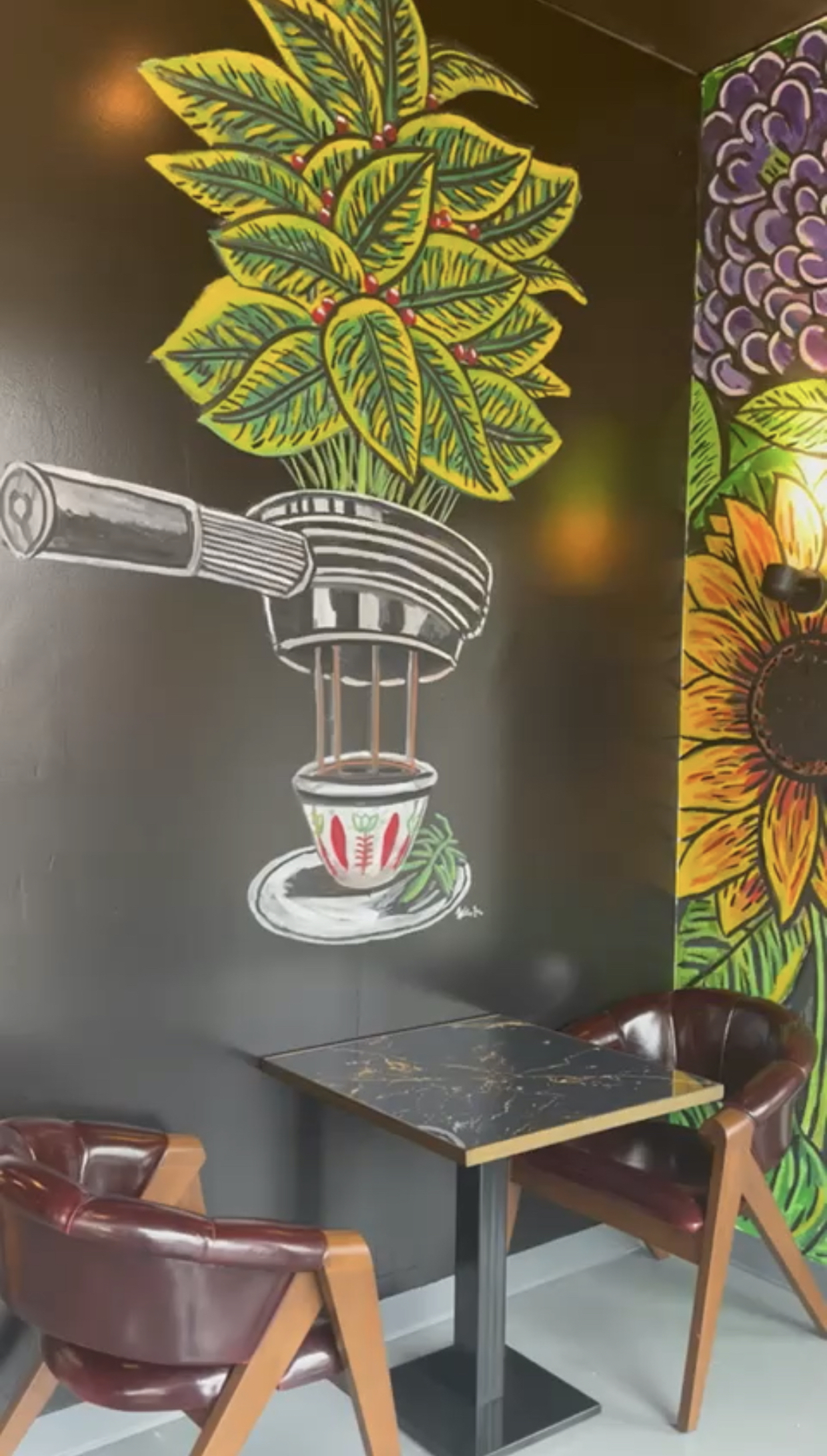 "Our farmer friends are rewarded for their efforts," said Abebe. "Also to improve the lives of our coffee farmers, a percentage of our tips go to the farmers in Ethiopia every month, so they can get clean water to drink in the farms."
Alemu's roasts are made into drinks using a 3-group La Marzocco KB90 ABR espresso machine paired with Mazzer Robur S grinders and a Puqpress Q2 auto-tamper. A Mahlkönig EK43 grinder prepares beans for single cups brewed by Marco SP9 brewers and batches brewed in a Fetco XTS machine.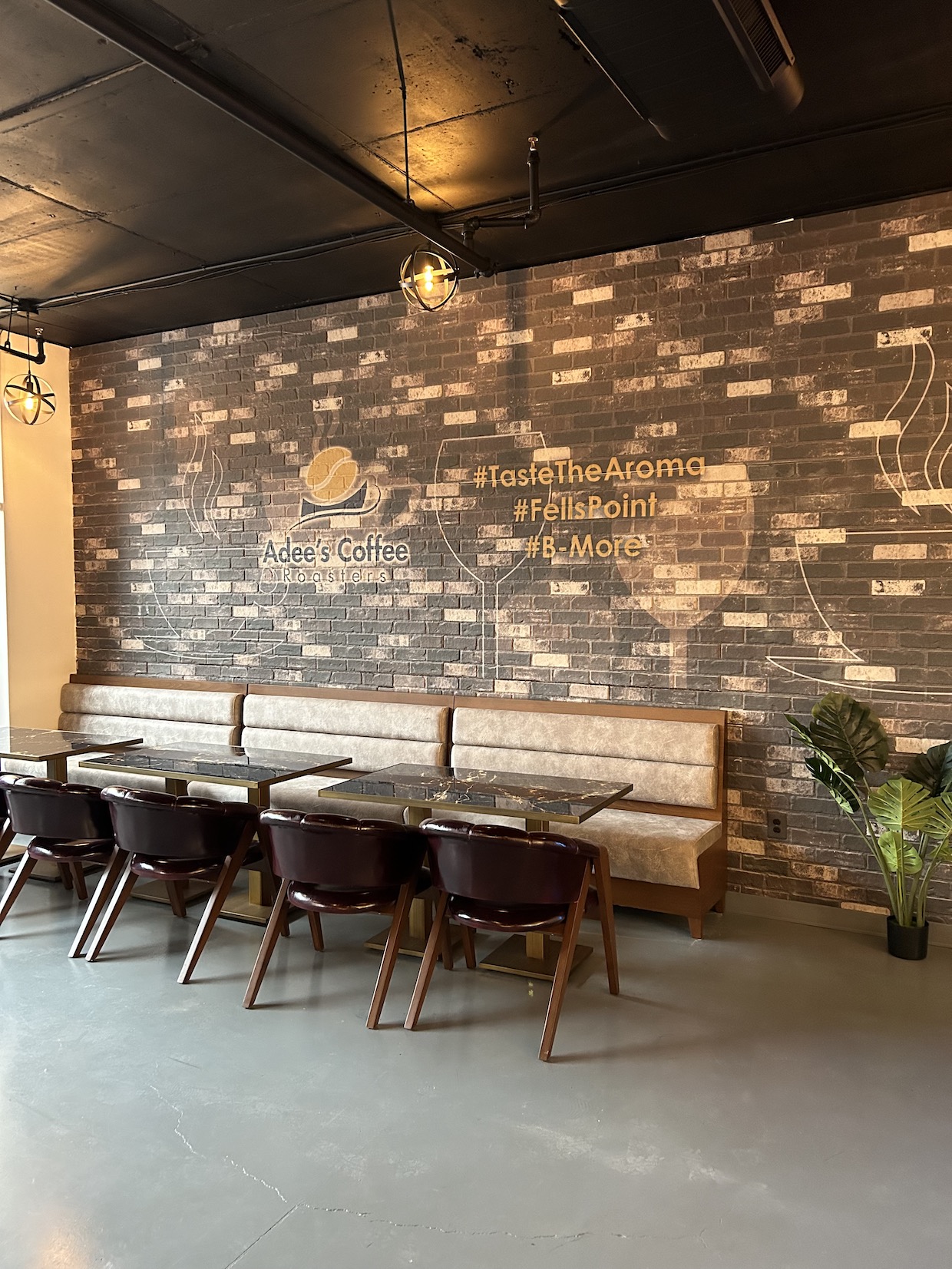 Customers can enjoy these drinks in imported Turkish leather and velvet seats alongside stone-topped tables, while taking in coffee- and flower-themed murals from Baltimore artist William Brown Jr.
On the first Saturday of every month, the owners perform a traditional Ethiopian jebena buna coffee ceremony.
Said Abebe, "Adee's is dedicated to creating a memorable coffee experience for our customers and guests, committing to sustainable business practices and supporting the communities that we serve."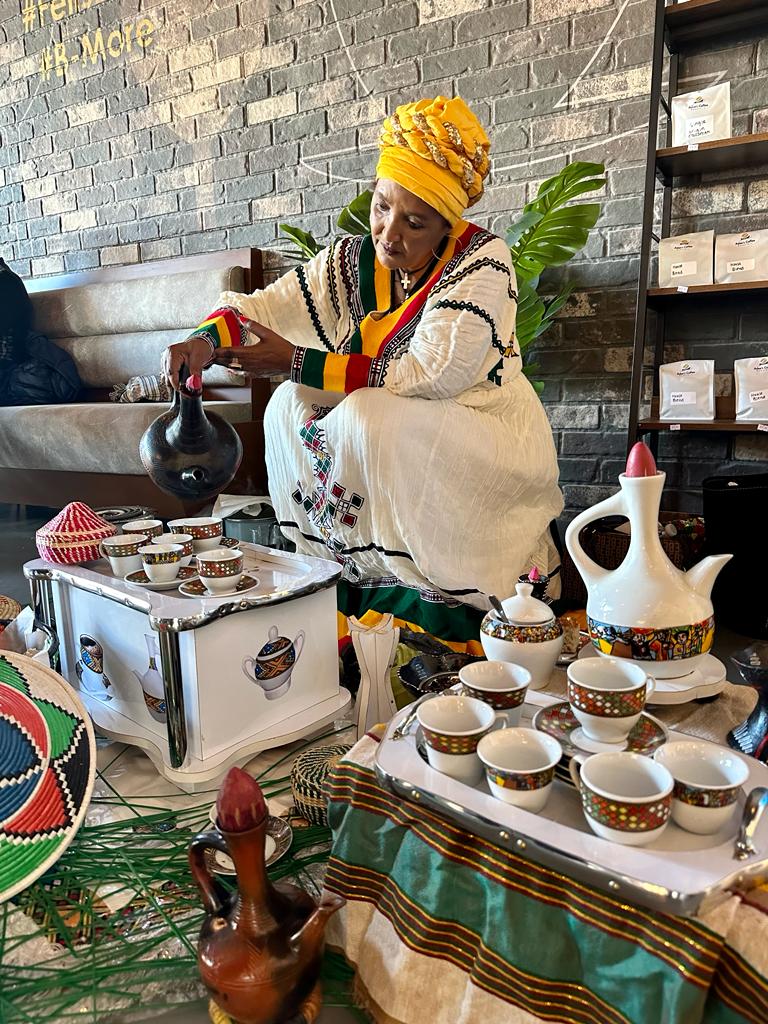 ---
Adee's Coffee Roasters is located at 1625 Fleet St. in Baltimore. Tell DCN's editors about your new coffee shop or roastery here. 
More From DCN
Howard Bryman
Howard Bryman is the associate editor of Daily Coffee News by Roast Magazine. He is based in Portland, Oregon.