Continuing our coverage of last month's HostMilano trade show in Milan, Italy, we now shine a light on new commercial coffee tools and accessories, as well as new home/prosumer equipment. 
Covering a broad range of hospitality and foodservice industries, the expo and trade show drew in more than 180,000 people from all over the world. The DCN team made a beeline for the coffee section, where many of the world's largest coffee equipment brands unveiled their latest creations, including new commercial espresso machines and new commercial grinders. 
Here we present a number of products that don't fit squarely into a single product box, beginning with home and light commercial equipment, then moving into commercial brewing accessories and roasting tools… 
Fiorenzato AllGround ProBrew and Sense
The new Home division of Italian grinder maker Fiorenzato launched two versions of a new grinder range called Fiorenzato AllGround, the AllGround ProBrew and AllGround Sense. 
Designed for high-end home or light commercial applications, the Fiorenzato AllGround Sense incorporates grind-by-weight technology, while the shorter ProBrew is designed for single-dosing. DCN will have more on these soon.
Mazzer Philos 
Alongside its first entry in the commercial grind-by-weight category, the Kony Sg, Italian grinder maker Mazzer unveiled the more compact Philos single-dose grinder. See DCN's complete profile of the Philos here. 
Ascaso Duo Plus 
In addition to its new Barista T Plus commercial model, Spanish espresso machine specialist Ascaso unveiled a high-end home or light commercial model called the Duo Plus. The Plus model is part of Ascaso's existing STEEL machine range. It notably introduces a "joystick" steam valve, offset on the right side of the machine (when facing the barista). 
Rocket Bicocca
Milan's own Rocket Espresso unveiled its latest high-end home/prosumer machine, the Rocket Bicocca. The dual-boiler Bicocca stands out with a large touch-screen interface atop the grouphead for more advanced controls 
Ascaso H64 Grinder
Fitting nicely alongside the Ascaso Duo Plus was the company's new 64-millimeter flat-burr grinder for home or light professional use, the Ascaso H64. The aluminum-bodied grinder with a 300-gram hopper includes a micrometric adjustment knob, and a small digital display with four modes (three-adjustable-dose modes and one continuous mode). A single-dose conversion kit is included. 
Eureka Home Grinders
In addition to several new grinders designed for high-volume commercial espresso applications, Italian grinder brand Eureka rolled out no fewer than nine new grinder models for home or light commercial use, many building upon the existing Eureka Mignon platform. Among the forthcoming entries in Eureka catalog are the 65-millimeter Mignonette Techno, a 55-millimeter companion, and three new versions of the Mignonette Libra designed for espresso, filter brew and all-purpose brewing, respectively. 
Slingshot Chalice
Alongside its new Talis commercial grinder (more on that soon), coffee equipment maker Slingshot unveiled the production-ready model of the Chalice. The handheld tool serves as both a dosing cup and as a coffee distribution (WDT) tool. The Chalice is expected to be available soon with an MSRP of $110. 
Alpina Automatic Pourover Tower
Austrian super-automatic coffee machine specialist Alpina unveiled a single-cup tower within its relatively new line of automated pourover machines. Designed for commercial applications, the filter coffee brewer follows similar 2- and 3-station models from Alpina. A company representative told DCN there are currently no plans for U.S. distribution. 
Mikafi Electric Roaster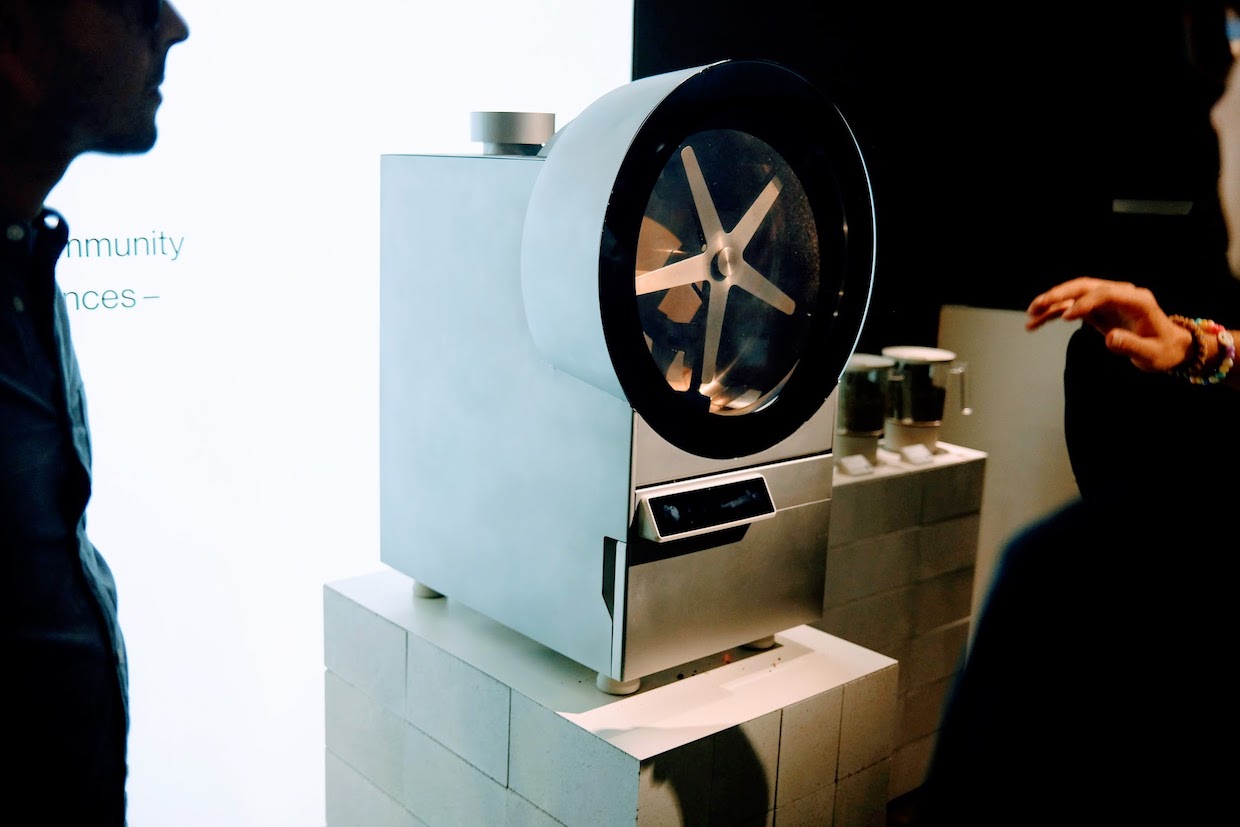 A Swiss startup called Mikafi made its public debut, showing off its flagship electric coffee roasting machine. The roasting equipment is complemented by green coffee services, as well as a tech platform that connects roasters directly to customers' orders. We'll have more on Mikafi soon. 
Avercasso Green Coffee Sorter
A Taiwanese startup called Avercasso unveiled its flagship product called the CS One Coffee Sorter, designed for use by specialty coffee roasting companies and other actors in the coffee quality supply chain. With a 2.5-kilo capacity (upgrade available) and a 5-kilo per hour capacity, the machine incorporates AI learning while using an air compressor to push defective green coffee beans to the side. A mobile app shows real-time sorting results. The company is planning to launch European sales by the end of this year, and hopes to have a model ready for the next SCA Expo in Chicago. DCN will have more on this soon. 
More From DCN
Nick Brown
Nick Brown is the editor of Daily Coffee News by Roast Magazine.